Texas principal who banned Spanish in mostly Hispanic school loses job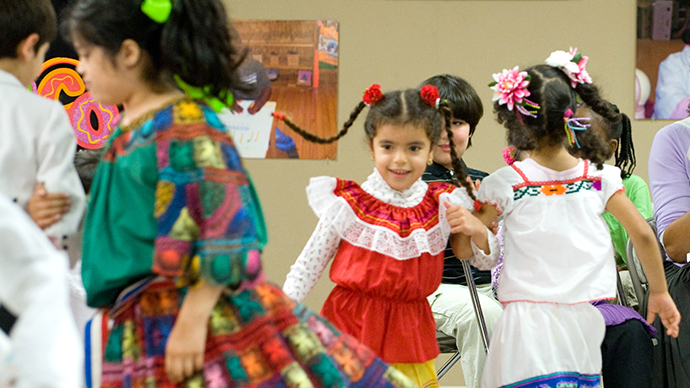 The Texas middle school administrator who announced to her school – where approximately half of the student body is Hispanic – that speaking Spanish is forbidden is looking for a new job after learning this week that her contract will not be renewed.
Amy Lacey, principal of Hempstead Middle School, was placed on paid administrative leave in December after she reportedly used the school intercom system to declare that speaking Spanish anywhere on the school's campus would be prohibited. That event, which occurred on November 12, and the subsequent community backlash was enough to convince the Hempstead school board to not renew Lacey's contract. The decision was announced by the board on Monday.
The school is located in Waller County, Texas, where Latinos represent a growing number of the population each year. The demographic shift is especially prevalent in the school system, where Hispanic students outnumber Caucasians. Principal Lacey's divisive announcement inflamed already brewing racial tension and, some say, drew a line in the sand.
"When you start banning aspects of ethnicity or cultural identity, it sends the message that the child is not wanted; 'We don't want your color. We don't want your kind,'" Augustin Pinedo, director of the League of United Latin American Citizens Region 18, told Lisa Gray of the Houston Chronicle. "They then tend to drop out early."
It took the district superintendent more than two weeks to send a letter to parents stating that "neither the district nor any campus has any policy prohibiting the speaking of Spanish."
In the weeks following the incident, students told local media outlets that the principal's announcement, combined with the lack of a strong reaction from other administrators, seemed to give teachers license to discriminate.
Yedhany Gallegos, an eighth-grader, told Drew Caredes of KHOU-TV that many of her friends grew up speaking Spanish and that some teachers have threatened students with detention.
"She was like, 'no speaking Spanish,'" she said of one encounter. "I was like, 'That's my first language.' She said, 'Well you can get out.'"
Now, though, civil rights advocates claim that the principal's initial suspension seemed to inflame a campaign of discrimination against the Latino community. Delma Flores-Smith, the district superintendent, said she has witnessed people taking photos of her house and once arrived home to find that vandals had gone through her trash.
Worse yet, officials discovered that the brake lines on three school buses had been tampered with. They have called on the US Department of Justice to investigate the incident as a hate crime, although an FBI spokesman refused to say if the bureau was looking into the accusations.
"I'm hoping everything will die down now," Flores-Smith told the Chronicle. "We need to get back to peaceful living, and education."
You can share this story on social media: