Almost 50% of black males, 40% of white males arrested by the age of 23 - study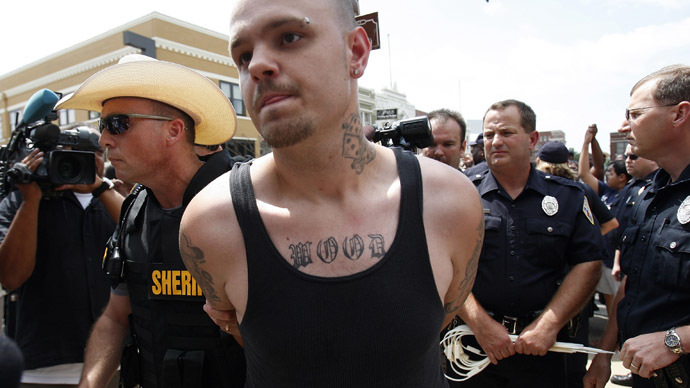 Nearly half of the African-American men who grow up in the United States are arrested by the time they hit their 23rd birthday, according to a new landmark study that set out to examine biases within the criminal justice system.
The journal Crime & Delinquency published the study Monday, which found that 49 percent of African-American males and 40 percent of Caucasians had been arrested by 23.
The authors, led by criminologist Robert Brame from the University of South Carolina, also wrote that 44 percent of Hispanic males were taken into police custody by the same age, "which can hurt their ability to find work, go to school and participate fully in their communities," they wrote in a press release.
Researchers began tracking 7,000 young men between the ages of 12 and 17 from 1997 to 2008. They excluded traffic offenses but did note arrests for crimes ranging from truancy to violent assaults.
"By age 18, 30 percent of black males, 26 percent of Hispanic males and 22 percent of white males have been arrested," the scholars determined. Those numbers increased drastically by over the next five years, something that was unique to males.
"While the prevalence of arrest increased for females from 18 to 23, the variation between races was slight," the team wrote. "At age 18, arrest rates were 12 percent for white females and 11.8 percent and 11.9 percent Hispanics and black females, respectively. By age 23, arrest rates were 20 percent for white females and 18 percent and 16 percent for Hispanic and black females, respectively."
Brame warned that the study is by no means comprehensive, but said it does offer a snapshot into the world that young people are growing up in.
"A problem is that many males, especially black males, are navigating the transition from youth to adulthood with the baggage and difficulties from contact with the criminal justice system," the lead researcher wrote.
The motivation behind the study was the swelling American prison population which, while it seems to have reached a plateau, is higher than any other developed nation. Previous studies have shown that even if an individual is never charged or imprisoned, merely being arrested increases the chances that they will be arrested again in the future.
"As a society, we often worry a great deal about the effects of children watching television, eating junk food, playing sports and having access to good school," Brame went on. "Experiencing formal contact with the criminal justice system could also have powerful effects on behavior and impose those substantial constraints on opportunities for America's youth."
You can share this story on social media: