Texan accused of filming 'knockout game' charged with hate crime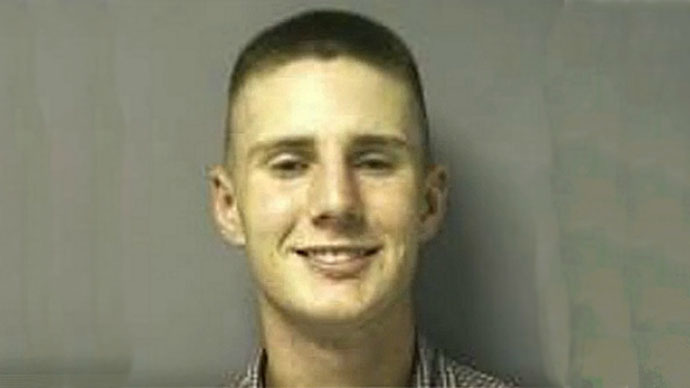 A Katy, Texas man accused of assaulting a 79-year-old African American man in a "knockout game" attack has been charged with a federal hate crime.
According to federal investigators, 27-year-old Conrad Alvin Barrett targeted the unidentified elderly man because of his race, a violation of Matthew Shepard and James Byrd Jr. Hate Crimes Prevention Act. He allegedly wanted to see if physically striking an African American would make national news.
The incident reportedly occurred on November 24, when Barrett recorded himself performing the assault – an attempt to knock a person unconscious with a single blow – and began showing it off to others. One of the individuals he allegedly showed the video to was an off-duty investigator, who ultimately informed a police officer of the situation.
Prosecutors claim the video portrays Barrett walking up to the elderly man, striking him in the jaw, laughing, and saying, "Knockout" before making his escape. Investigators add that although Barrett's face was never shown in the footage, they were able to match his voice to the one in the video.
The victim suffered two jaw fractures and was hospitalized for more than four days, according to KTRK TV.
Other videos also found on Barrett's phone reportedly show the young man making derogatory statements towards African Americans, including that they "haven't fully experienced the blessing of evolution."
"Hate crimes tear at the fabric of entire communities," Acting Assistant Attorney General Jocelyn Samuels of the Justice Department's Civil Rights Division said to the Huffington Post. "As always, the Civil Rights Division will work with our federal and state law enforcement partners to ensure that hate crimes are identified and prosecuted, and that justice is done."
Barrett's attorney, George Parnham, defended his client by saying he suffers from bipolar disorder, which he treats with medication.
"When you start peeling back the layers of the onion and look at the mindset behind the action you soon realize there's a mental issue," Parnham told CBS News.
If convicted, Barrett faces up to 10 years in prison and a fine of up to $250,000.
You can share this story on social media: