Republicans trash telescope project
Published time: 11 Jul, 2011 18:36
Edited time: 11 Jul, 2011 23:12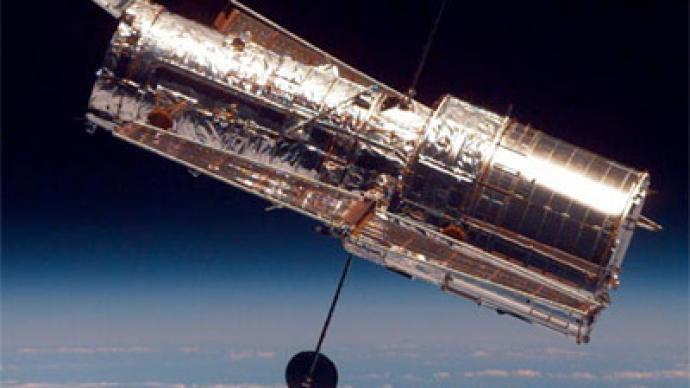 Republican lawmakers are looking to flush billions of dollars down the drain by pulling the plug on a NASA project that one space scholar says would be an "unmitigated disaster for cosmology."
The James Webb Space Telescope has been under development since 2004, but the cost of the cosmic observatory — set to be launched a million miles into space — has only skyrocketed since then. The price as of now is looking like close to $6 billion, and while scientists say the images that could be revealed by the Webb could be of astronomical importance, the Republican-led House appropriations committee on commerce, justice, and science says poor management and budget concerns should be cause enough to can NASA's plan.
Tod Lauer of the National Optical Astronomy Observatory in Tucson tells the Guardian, however, that doing so "would be an unmitigated disaster for cosmology."
The Webb Telescope is scheduled for launch in 2016 and, at three times the diameter of the Hubble Telescope and decades newer, would offer an updated and improved outlook at what's happening in the Milky Way.
"After two decades of pushing the Hubble to its limits, which has revolutionized astronomy, the next step would be to pack up and give up. The Hubble is just good enough to see what we're missing at the start of time," adds Lauer.
The rest of the House and the Senate would still have to agree to terminate the telescope, so an end isn't necessarily in sight. The future, for now, isn't looking all too bright.
In addition to the billions brought into the project by the US, other countries have also invested time and money into the Webb. The Mid-Infrared Instrument project (Miri), a joint-venture between US and European scientists, has spent years working towards technology to be used on the telescope. Sarah Kendrew, a member of the Miri team, tells the Guardian that they should be finished with their part of the project by 2012 and says, "all we can do is finish the job, I suppose, and give as much support as we can to our colleagues over there."
Back when the Hubble launched in 1990 — seven years after it was scheduled to — it ended up costing NASA over triple of what was expected.
US Senator Barbara A. Mikulski (D-Md.) issued a statement condoning the defunding of the Webb project last week, saying that the telescope "will lead to the kind of innovation and discovery that have made America great."
"It will inspire America's next generation of scientists and innovators that will have the new ideas that lead to the new jobs in our new economy," adds Mikulski.