RT's apology to Taser International - the killer of 500 Americans, according to Amnesty International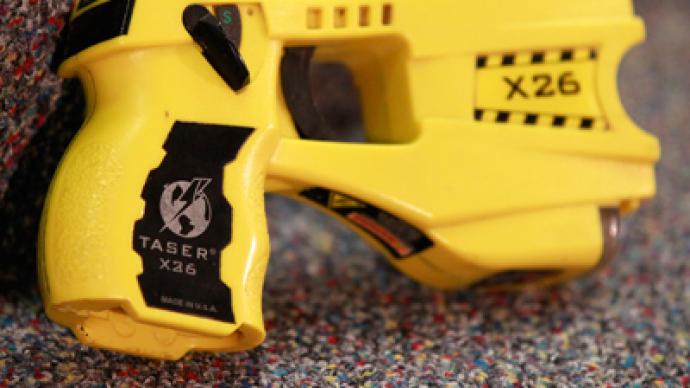 In regards to our recent report on Kenneth Chamberlain, a 68-year-old retired US Marine killed by police officers in his home, RT would like to extend our apologies to Taser International and offer clarification to our readers.
In our article published April 5, "NY cops break into Marine vet's home and Taser him to death," RT was imprecise in our wording of the story's headline and would like to formally offer our apologies to Taser, the manufacturer of the electroshock guns used by law enforcement across the country and, unfortunately, also on the late Mr. Chamberlain. We have appropriately retitled our original article. In addition to saying we are sorry to Taser, who we cannot blame directly in the death of the vet, we would like to clarify that, although the cause of death has not been made available to us, it was incorrect on our part to summarize the story as we did in our original headline. We cannot, with certainty, say that the elderly retired correctional officer that suffered from a heart condition died from injuries suffered as police officers attacked him with a Taser gun. While Mr. Chamberlain did pass away shortly after law enforcement used Taser guns on him, those same officers also fired "nonlethal" beanbag projectiles from a shotgun and used live ammunition on the man before he was transported to an area hospital only to die in front of his family."The last time I actually really saw my father, other than the funeral, was at the hospital, with his eyes wide open, his tongue hanging out his mouth, and two bullet holes in his chest," his son, Kenneth Chamberlain, Jr., tells Democracy Now.According to law enforcement accounts, police were dispatched to Chamberlain's White Plains, New York house last year after he triggered his medical alert pendant. After Mr. Chamberlain failed to respond to calls from LifeAid, the medical alert company, police were sent to his home to check on his health. Chamberlain then greeted them at the door, told them he was alright and refused them entry to his home. Unwilling to take his word, however, police officers demanded they be allowed admittance, but not before eventually removing the door to his home and firing shots at him as he stood in his underwear, arms akimbo.Audio recorded on the scene allegedly reveals Chamberlain telling the officers, "I'm OK. I didn't call you. Why are you doing this to me? Please leave me alone," then warning them, "I'm a 68-year-old man with a heart condition."The tape, which has not been made public but has been circulated to attorneys and those close to the matter, also allegedly contains an audio testimony made by Chamberlain in which he says, "I know what you're going to do. You're going to come in here, and you're going to kill me."Kenneth Chamberlain, Jr. adds that officers respond to his father's plea by saying, "Why would you think that? We're not going to do that.""Yes, you are. You have your guns out. Why do you have your guns out? Oh, you have a shield," the late Mr. Chamberlain allegedly replies in the recording. The younger Chamberlain also says cops called his father a "nigger" and mocked his military career.If all goes as planned, a grand jury will begin an investigation into the case later this year and establish whether or not the law officers sent to check on the elderly man's health were justified in using their Tasers to attempt to incapacitate the man before shooting him to death. His attorney seems certain that the police was in the wrong, though."To use a Taser, which is going to send significant electricity through that person's body, would be, at best, reckless. And that alone could cause his death" attorney Mayo Bartlett tells Democracy Now. "And the thing that's extremely troubling to me is that, again, the police were not there to respond to criminal activity. They went to the gentleman's house at 5:00 in the morning to give him assistance. The only reason that he had the LifeAid pendant to begin with was so that his family and that he would be comfortable that if something was to occur, he would be able to get assistance.""The first thing they did, as soon as that door was finally broken off the hinges, you could see the taser light up, and it was charged, and you could see it going directly toward him. Now that was 100 percent unnecessary," adds Bartlett.In responding to RT's original article, a representative for Taser International insists that although "Mr. Chamberlain was shot twice with a firearm," reports filed suggest that the electroshock gun used was "ineffective." It has yet to be clarified as to if the weapon was discharged improperly, if did not have the desired effect on the man or what, in fact, was ineffective of it, but we would like to state, for the record, that we are sorry if our article misconstrued the facts of the story.RT understands that Taser International would be upset by our inaccurate reporting, especially after being responsible for so many other deaths in the past. After all, it was only earlier this year that Amnesty International reported that, in only one decade, at least 500 people in America alone had been killed as a result of Taser blasts."Of the hundreds who have died following police use of Tasers in the USA, dozens and possibly scores of deaths can be traced to unnecessary force being used," Susan Lee, Americas Programme Director at Amnesty International, explained in the groups' report.Not specifically commenting on Chamberlain's death, Lee added with her findings, "What is most disturbing about the police use of Tasers is that the majority of those who later died were not a serious threat when they were shocked by police.""Most of the deaths have been attributed to other causes," continued the report. "However, medical examiners have listed Tasers as a cause or contributing factor in more than 60 deaths, and in a number of other cases the exact cause of death is unknown.""Even if deaths directly from Taser shocks are relatively rare, adverse effects can happen very quickly, without warning, and be impossible to reverse," she adds.Amnesty International published their findings earlier this year, only days after fatality number 500 was added to the list of Taser-related deaths. Earlier this year, a 43-year-old unarmed man was shocked by Tasers by police after being allegedly intoxicated in the state of Alabama. He died in the hospital two hours later.Last year, a federal judge awarded a $1 million settlement to the family of a 15-year-old boy that died, in part, due to the "application of an electromuscular disruption device." He was shot with a Taser in 2009. The website Truth, Not Tasers believes the official Taser-related death toll to be closer to 700 than the 500 reported by Amnesty International.
You can share this story on social media: