Cop sues Taser after riding the lighting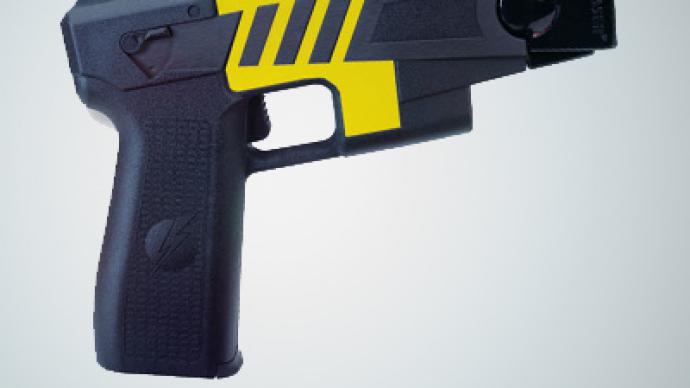 Andy Butler, a Dallas police officer, filed a lawsuit against Taser International after being willingly zapped with over 50,000 volts of electricity during a Dallas Police Department training session.
The "ride," which being tasered is often referred to, is what Butler blames for fracturing his back and leaving two metal plates in his neck.
For Butler it has been a "ride" he will never forget.
"I don't think any responsible person would have made that decision, knowing what I know now," Butler tells KDAF.
The 2009 incident required Butler to have surgery to repair three herniated discs in his neck, where one was forcing pressure on his spinal cord. Apparently Butler's back muscles constricted so tight with the jolt that it crushed his vertebrae.
Butler, now under constant pain, has become a part of a rising number of law enforcement officers across America who are suing Taser International. According to the lawsuits, Taser has fallen short of effectively warning officers and their departments about the dangers of being tasered.
"Taser has known since 2004 that every time an officer is tasered, he is at risk of serious injury or even death," Butler's attorney, Mark Haney, tells KDAF.
Although Dallas PD does not require cops to be tasered, some in law enforcement say its all but a necessity.
"It seemed like a rite of passage, that everybody had to do it," Butler said. Butler admitted that peer pressure also played a significant role in experiencing "five seconds of pure pain."
Butler adds the waiver he signed from Taser alluded to possible "physical exertion or athletic-type injuries" but failed to mention anything of this magnitude.
"They hint around about it, but they don't just come out and say that 20-40 officers have been injured and these are the kinds of risks you pose, if the department allows officers to be tasered," Butler's attorney tells reporters.
Now the stun gun maker is counter-suing Butler, claiming he should have known the risks.
In a recent deposition for Butler's lawsuit, the CEO of Taser, Rick Smith, testified that instruction manuals disclose that ten officers have been injured while in Taser training. Smith admitted in his testimony that Taser never made an attempt to have the department put an end to Tasering its officers in training.
According to Taser's website, over 559,000 devices have been sold to more than 16,000 law enforcement and military agencies.
"That is a weapon we use on the public. If we think it is unsafe and harms officers, then I couldn't reasonably deploy those weapons against the public," says Deputy Chief Floyd Simpson, who is the head of the department's policy on Taser training.
Taser still stands by their products and credit the device for saving countless lives by providing police with a nonlethal option when dealing with uncontrollable criminals.
"I'm not saying there's not a place in the law enforcement for a less-than-lethal option. I think a Taser is better than a 9 mm every time. But police officers need to understand these consequences and limit the risks in training," Haney adds.