Taser International sued by man left with brain damage after being electrocuted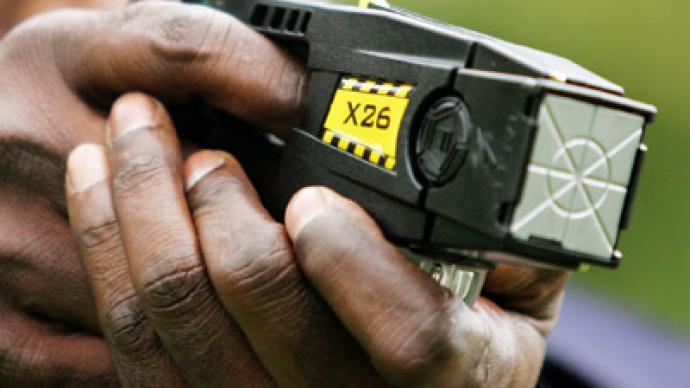 Taser International is being forced to defend itself in court this week after a man filed a lawsuit against the electroshock gun company, claiming he went into cardiac arrest as a result of being shot in the chest by a Taser.
Colin Fahy, who was 17 years old at the time of the incident, was shot in the chest with a Taser by police responding to a domestic disturbance complaint at his home in St. Louis. Police Officer Karen Menendez claims she used the Taser on Fahy, who was drunk and high, after he lunged at her and one other officer, according to a report by the St. Louis Post-Dispatch.Menendez shot the gun twice, delivering one 25-second shock and one 5-second shot. Fahy went into cardiac arrest soon afterwards, which the plaintiff claims was a direct result of the stuns from the Taser."On December 7, 2007, St. Louis police officers used the X26 Taser on Fahy, causing him to go intro ventricular fibrillation and cardiac arrest," read court documents signed by United States District Judge Catherine Perry in 2010.After falling to the kitchen floor, the teenager was handcuffed by the officers. At this point he was blue in the face and unresponsive. Fahy was subsequently hospitalized, suffered cardiac arrest for 30 minutes and was on life support for weeks. The young man now suffers from permanent brain damage and struggles with short-term and working memory.Taser International cautions law enforcement on the potential risks involved with shooting a person's chest. But these warnings are new: on the day Fahy was shot with a Taser, no such warnings existed. Lawyers are expected to debate on whether such warnings would have made a difference on that December night.William Dowd, one of Fahy's lawyers, on Tuesday referenced a study that showed Taser shots to the chest could interfere with the heart's rhythm.Fahy is seeking claims against Taser International for design defect, strict liability – failure to warn, negligent failure to warn, negligent design defect, and negligently supplying a dangerous instrumentality for supplier's business purposes.The company has also come under increased scrutiny this year for its potential harm to victims. A June 4 video by the California Highway Patrol shows police using a Taser three times on 50-year-old Angela Jones, who subsequently became unconscious, lost her pulse and had suffered cardiac arrest.In April, the New York Times reported a study that shows the electrical shocks delivered by Tasers "can lead to cardiac arrest and sudden death". The study analyzed records from the cases of eight people who suffered cardiac arrest after being shocked by the Taser X26 – the same weapon that shocked Fahy. Seven of those people died.The study claims Tasers can sometimes set off irregular heart rhythms that cause cardiac arrest."This is a scientific fact. The national debate should now center on whether the risk of sudden death with Tasers is low enough to warrant widespread use by law enforcement," Dr. Byron Lee, a cardiologist and director of the electrophysiology laboratory at the University of California, San Francisco, told the Times.John Jerry Glas, a lawyer representing Taser International in this week's trial, said no such risks were known in 2007. Glas also said the studies that were referenced in court said it would take 15 times the normal Taser charge to affect the heart enough to potentially cause cardiac arrest.Experts representing the company will argue that Fahy's handcuffing in an already-panicked state could have led to the subsequent health complications, according to the report by the St. Louis Post-Dispatch.
You can share this story on social media: