American WWII veteran and candy maker, 87, died after mugging by teens
Published time: 28 Oct, 2013 10:00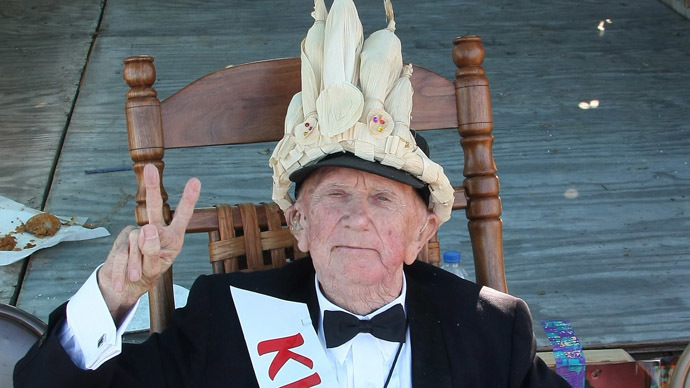 A World War II veteran well known and loved by his local community in Mississippi was attacked by four teens in a mugging, and died two days later.
Lawrence E. "Shine" Thornton, an 87-year-old widower, was targeted after the four muggers recognized him as king of the second annual Delta Hot Tamale Festival, which was just drawing to a close on October 18 in Greenville.

The four teens, all aged 18 and 19, "pushed him down and stole his wallet," local police told the Delta Democrat Times. The incident took place at 5:30pm on Thornton's driveway. After emergency services arrived, Thornton was airlifted to the University of Mississippi Medical Center in Jackson, where he died two days later. 
The suspects were arrested and charged variously with capital murder, robbery and conspiracy to commit robbery. This followed the community setting up a reward for the arrest of those that attacked their neighbor. 
Bail was set variously for three of the suspects at $2.5 million to $3 million. For one, Terrence Morgan, 19, bail was denied altogether. 
The attack took place just hours after Thornton was crowned for the second time as the Delta Hot Tamale Festival king. Hot tamale is a type of spicy cinnamon candy, and Thornton had his own recipe. 
But more than just a Tamale entrepreneur, Thornton also ran a liquor store while being employed by the Delta Electric Co. for 37 years; this followed a two-year stint as Fireman First Class aboard the minesweeper USS Herald.
The alcoholic beverage store had become a side business over the years – something he kept to support the family, and one he switched to in 1984, after losing his job at Delta Electric.
In the same year he also started experimenting with his special hot tamale recipe, something that eventually turned into a successful business. His wife, Mary, Sicilian by origin, was the inspiration for his brand, "Maria's Famous Hot Tamales."
The Facebook page of the festival, which held its second annual event Oct. 17-19, posted Thornton's picture, along with a statement expressing shock at his killing. "[Y]ou will forever be our King Shine," it said.
Thornton's death comes a little less than three months after two teens were suspected of fatally stabbing another WWII veteran, 88 year-old former US infantryman, Delbert Belton, in Spokane, Washington state, near the Canadian border. The suspects were aged 16 and 19 and appeared not to have known Belton.