Swanocide? New York mulls cull of 'invasive' swans
Vilified for an assortment of bad behavior – from destroying vegetation to bringing down passenger jets – New York wants to declare mute swans a "prohibited invasive species." Hundreds of the handsome long-necked birds may be resettled – or killed.
Brought to North America by European settlers in the late 1800s, today the mute swan seems to have worn out its welcome.

The New York state department of environmental conservation has accused the mute swan of aggressive behavior toward people, destroying plants and contaminating water supplies since their feces are said to contain E. Coli bacteria.

Last but not least the graceful birds, which adorn lakes and parks with their elegant beauty, are said to pose a threat to the hundreds of roaring passenger jets that crowd the skies above New York every day.

On January 15, 2009, US Airways flight 1549 was forced to crash-land in the Hudson River after the aircraft lost its engines after colliding with a flock of geese. Since that fateful day, the US Department of Agriculture has been engaged in an annual culling of Canada geese.

Now the universal symbol of love has been dragged into the culling campaign as New York aims to eliminate its mute swan population by 2025 – by resettling or kill them.

"Lethal control methods will include shooting of free-ranging swans and live capture and euthanasia in accordance with established guidelines for wildlife," the draft proposal said.

A final plan is expected to be announced this year.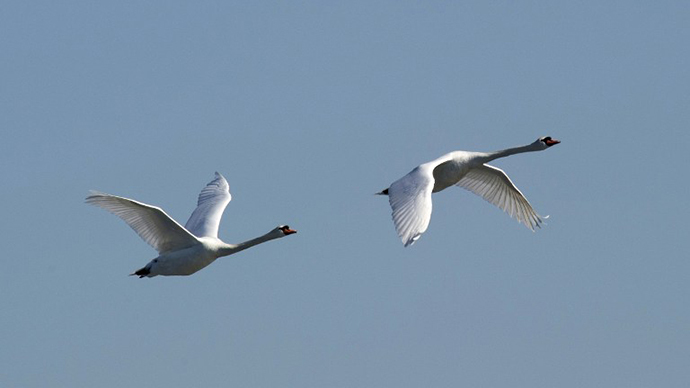 The draft legislation may be supported by some conservationists but has attracted consternation from animal rights groups.

The animal rights watchdog Goose Watch NYC, which has organized a protest against the geese culls, called for an end to the campaign against mute swans.

"It's just outrageous to try to exterminate an entire species that has been living in the state for more than 150 years, almost 200 years," founder David Karopkin told AFP.

He scoffed at the idea that 2,200 swans posed a threat to the 18 million people of New York.

"I've yet to find anyone who has been seriously injured by a mute swan," he said.

"When they're being aggressive it's often in relation to them protecting their nest, their babies. I mean people need to have some common sense," he added.

Some conservationists, however, spoke out in favor of the plan.

Paul Curtis, associate professor in the department of natural resources of Cornell University, told AFP that mute swans can pose a threat in certain situations.

There have been four documented swan strikes at JFK airport, he said. Swans can pose a nuisance and they deplete food sources.

"The goal is to limit population growth in the wild, and remove swans from places where they cause problems or do damage to plant communities," he was quoted as saying.

The state's Conservation Agency also came out in defense of its anti-swan plans.

"I knew there would be a lot of passionate defenders of swans, but we can't base our management policies just on the aesthetics of a bird when it has such negative impacts," Bryan Swift, the conservation agency's statewide waterfowl specialist, told The New York Times.

Not surprisingly, many New Yorkers speak out in defense of the birds.

"If they were born here, they should be considered native by now," Michael Vangi of Bayside, Queens, told the Times.

"I'm not an environmentalist, but that seems kind of messed up," agreed a co-worker, Joseph LoRe. "Is that how we treat immigrants?"
You can share this story on social media: