Friends of Boston Marathon bombing suspect stand trial in US
Two Kazakh students who were friends with suspected Boston Marathon bomber Dzhokhar Tsarnaev are standing trial in the US, accused of conspiring to destroy evidence in the bombing case.
The first hearing of the case against Azamat Tazhayakov and Dias Kadyrbayev is scheduled to take place on Tuesday. The original hearing, which was scheduled for May, was postponed at the request of the defendant's legal team. Both men are accused of trying to impede investigators by throwing away fireworks and other evidence they found in Tsarnaev's residence the day before his apprehension.
"Kadyrbayev, Tazhayakov, and another conspirator, according to the indictment, then went to Tsarnaev's dormitory room and removed several items, including Tsarnaev's laptop computer and a backpack containing fireworks, and brought them to Kadyrbayev and Tazhayakov's apartment in New Bedford," the FBI wrote in a statement on its website.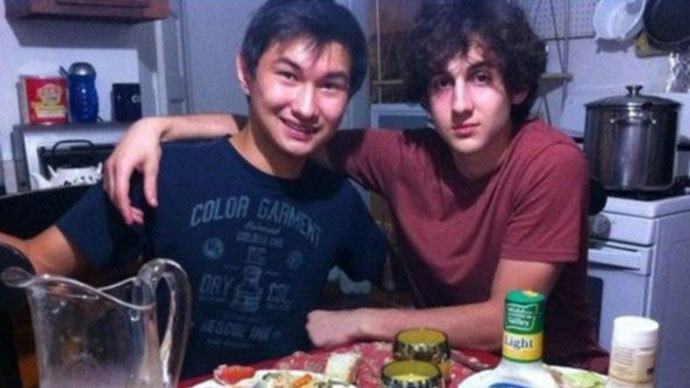 The 19-year-olds, who shared a room in an apartment in New Bedford, Massachusetts, have been detained since they were charged in a criminal complaint in May. If convicted, they face up to 20 years in prison. During their arrest, a third male was apprehended. Robel Phillipos is charged with lying to investigators.
Twenty-year-old Tsarnaev is suspected of orchestrating the April 15 blasts at the Boston Marathon which killed three people and wounded at least 260 others. The Dagestani was captured on April 19 after a shootout with authorities. He entered a not-guilty plea.
Another suspect in the Boston Marathon case, Ibragim Todashev, was shot dead by an FBI agent in May when he allegedly attacked the officer during an interview.
RT's Anastasia Churkina spoke with Todashev's mourning father, who is on a mission to uncover the truth behind the FBI's killing of his son. He is even willing to sue the bureau if necessary.
"I want justice, honestly," said Abdulbaki Todashev. "Because an unprecedented, intentional murder of my son took place."
For more, watch Anastasia Churkina's interview with Abdulbaki Todashev.