Marine's failed suicide attempt lands him jail sentence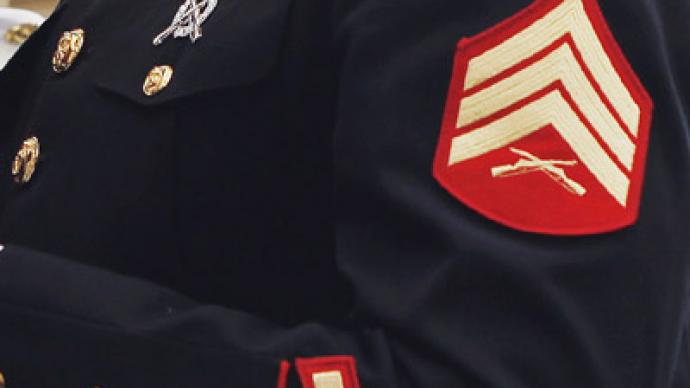 In 2010, 37 active Marines in the US Military committed suicide. Had Pvt. Lazzaric T. Caldwell been successful in his attempt, he would've been number 38.
Since discharged, Pvt. Caldwell has battled post-traumatic stress disorder and other mental illnesses. In his latest battle, however, he's fighting the Armed Forces.Pvt. Lazzaric T. Caldwell was stationed in Okinawa, Japan when he attempted suicide in 2010. Caldwell has survived thankfully and is still around, but so are his troubles. He is taking the Marines to court after the US Military sentenced him to 180 days in jail for his attempted suicide.Caldwell argues that the military should be trying to help servicemen who have been driven to suicide due to active duty, not punish them. Taking into account the US Armed Forces as a whole, Marine suicides are only but a fraction. In 2009, the figure of active-duty suicide extended to 309, and the number of attempts — more than 1,000 — exceeded the number of battlefield casualties that year. Although the Military insists that they are trying to bring that number down, Caldwell says sending their own men and women to jail for their actions isn't the right way to do it. "I thought it was unfair and I thought it was just kind of morally wrong to punish somebody for something of that nature," Caldwell tells The Associated Press. "Seeing the kind of state I was in, there should have been a way of getting help instead of just a punishment."Navy Lt. Mike Hanzel is representing Caldwell as the discharged Marine attempts to fight that sentence and agrees that this is something that should be highlighted. As more servicemen attempt suicide, the Military should be digging for solutions, not dishing out sentences."I think it definitely touches important issues which are affecting all the branches of the armed forces right now," Hanzel adds to the AP via email."(I)f you succeed in committing suicide your service is treated honorably and your family receives full benefits," Hanzel says. "(I)f you are unsuccessful in a genuine suicide attempt, you can receive a federal conviction and get a bad-conduct discharge and jail time, which is what happened to Pvt Caldwell."Caldwell was not sentenced for his suicide attempt, per se. Instead, rather, he was brought to military tribunal with the charge of "intentional self-injury without intent to avoid service." The government says this charge is in place to maintain discipline within the armed forces. Retired Army Judge Advocate Victor M. Hansen tells the AP that cases such as Caldwell rarely make it to court. "It happens but it doesn't happen a lot," he says. Despite the government's insistence that the rule is good for the armed forces, the Marine Corps experienced a record number of suicide attempts in 2011. In the last year, a total of 175 active servicemen attempting to take their lives.
You can share this story on social media: