Why the Sudanese don't take what is said of them in the West seriously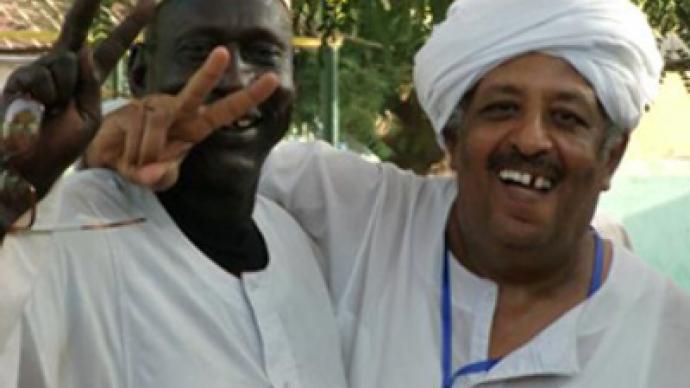 Some seven thousand graduates from Soviet and Russian universities are currently living in Sudan. Most of them studied in the USSR.
The Soviets let young people from Asia and Africa get inexpensive, high-quality higher education in the universities of the USSR. Nothing similar has been done in the world since then.
No other country has a lobby in Sudan that is as strong or as educated as Russia. No other country treats its lobby, or its image in Asia and Africa, as carelessly.
"Whoever enters Sudan enters Africa. Look at the way China did it," Abdelrahman Khalil, a businessman from Khartoum, tells me. He is forty and involved in the oil business. Khalil went to university in the USSR, Ukraine, to be exact, which is where his wife is from.
Abdelrahman Khalil is connected to Russia with business ties and attached to it with all his heart. He believes Russia should enter Sudan before other countries do.
I have heard similar things from government officials and businessmen in Iran, Pakistan, Afghanistan and Syria. Indeed, few people in the world understand why Russia is not eager to move into countries that are waiting for it to happen, whereas other countries, which are not so welcome, are trying to rush in.
"Look at it. Russian university graduates are on high positions in Sudan – they are governors, ministers, parliament members, professors. A soviet-educated woman, Doctor Fatima Abdel Mahmoud is running for president in Sudan, she is the first African woman to do so. Where else does Russia have this kind of possibilities?"
The question is hard to answer. Where else in the world does Russia have such extensive opportunities? What other country in the world has intellectual capital comparable to that of Russia?
The UK used to have it, but the graduates of UK universities did all they could to reduce its area of influence to the Albion itself. The US had developed a strategy of forging locals of colonized countries into its vassals. But when the US university graduates came back to their home countries, got key positions in the governments and demonstrated their sympathy to the American way of life, their own people did not accept them. I don't even have to bring in Sawimbi or Noriega, just remember Yushchenko and Saakashvili.
Russia's supporters are different. They have different behavioral models.
"Soviet university graduates have an organization. A council has bought out a strip of land, the architects have developed a project, the builders are currently gathering materials. They are going to build a house of Russia. This will open up new possibilities. Take culture, for instance. A classical music ensemble came here a while ago, their concert was a great success!"
My source is sure that the Sudanese mentality can be understood by Russians. He has been all over Russia and does not judge the country by the capital.
He believes Sudan has something to offer Russia – its leading positions in Africa are strong, and, to Asians and Africans, look nothing like what they are presented as to the West by the world media – a poor state, stuck in a succession of bloody conflicts with a president who had been put on the international wanted list.
"Africa has always viewed Sudan as a leader. This is where the African conference was created. This is where Nelson Mandela got his passport before he went to travel around the world. Sudanese businesses in Western Africa are thriving. Islamic banks and insurance companies started out from here. Sudan has developed the idea of presenting interest-free loans and insurance in the modern economic situation. Our insurance company 'Shiekan' is known all around the world. It was in Sudan that the alternative economy system was first tested, which has gained such popularity after the economic crisis. The Saudis created the first Islamic bank in Sudan."
After the crisis the leading Western economists paid their attention to the fact that the Islamic banking and insurance system remained intact. In Sudan, theologists and economists help integrate this system into the local economic environment.
Abdelrahman Khalil visited the London and the Moscow Conference on Islamic Banking and is going to continue consultations on the same topic. He reminded us of the fact that Sudan has been a member of OPEC for only 10 years:
"Before that we were not an oil country. Oil resources were found in 1970s and preserved by the Americans. They were making plans to get back to Sudan by 2018. But Sudan handled its oil for itself. The Sudanese oil extraction provides for 50% of the Chinese demand. Yes, China did help our country in terms of economy. China makes considerable investments and has long-term loans – for 30 years. But there is another side of the coin. China is damping – it works as a contractor, it is cheap, but the quality of construction is far from ideal. It is high time Russia came up with its own proposals."
Khalil's view on Darfur is far from the American or European assessment. He considers that what happened under Bashir is neither genocide, nor a crime. The Sudanese are well aware of what happened there, but nobody takes interest in what they think. It has often been said to Jimmy Carter, who is currently in Sudan observing the elections.
"There was an interethnic conflict in Darfur, which they tried to turn into war. It was not Sudan trying to do it, though it did make certain mistakes. Shepherds and farmers live in Darfur. Shepherds devastated arable lands – and it happened more than once and not only in Sudan," noted Khalil.
Let me remind you that the conflict between animal farmers and agricultural workers is as old as the hills. The name of the first person to work on the land was Kain, and he killed the first farmer – his brother Abel. Kain got jealous of the fact that Abel's sacrifice was dearer to God than his.
"Let's say that an ordinary, commonplace crime has occurred in Darfur, so, the culprits are to be punished. Over the centuries the conflicts finished at this point and were forgotten without taking them to international tribunals. Now international organizations have boosted what is going on to an unimaginable scale. It happened right after oil reserves were found in Darfur. What a surprise! While in Chad the power is in the hands of those who are actually on one side of the conflict."
Khalil is Nubian. Nubia is the same as Sudan. Its people that have been living on the land for 5,000 years have never left it. It remembers its history and speaks its own language. By the way, the Nubians consider the Prophet Moses to be their saint. When a child is born, they are put into a woven basket and let it flow down the Nile. The child's mother draws the basket to the shore with the help of a rope, just like the Pharaoh's wife drew the basket with the baby Moses. Will the international community allow the Sudanese to solve their own problems by themselves, while currently they are even not allowed to have their own opinion? Halil does not know. That is why he is joking.
"You know, Sudan is a country of farmers. Farmers love visiting us. George H.W. Bush came here when he was head of the CIA. Now he is a farmer. Carter likes to come here. He is also a farmer. We are the first country of farmers. In our culture there is no resorting to terror, no matter what they say about us abroad. We respect other people, and this peculiarity of our culture can be felt by everyone."
Nadezhda Kevorkova for RT, Khartoum.
You can share this story on social media: