Study links fracking with methane-contaminated drinking water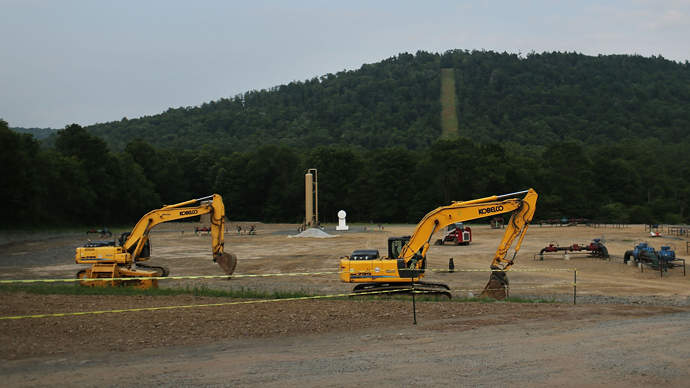 Household drinking water that comes from wells near known fracking sites contains levels of methane six times greater than what's common elsewhere, a new study has found.
Researchers at Duke University sampled drinking water from 141 wells across northeastern Pennsylvania and southern New York and determined that the concentration of methane, the main component of natural gas, is much higher when those wells are within one kilometer of a hydraulic fracturing, or "fracking" sites.
Fracking is a method of drilling deep into the Earth in order to extract natural gas and has seen an emergence in recent years as an increasingly popular process used by energy companies. That spread in popularity is not without opposition from environmentalists and activists, however, who fear fracking has detrimental effects on the Earth.
According to the latest study, researchers have linked fracking sites with methane contamination several times over what is seen elsewhere. The scientists say that those high levels aren't a direct result of the drilling, though, but caused in part by poor well construction that has allowed the water to become contaminated.
"It is looking like we are seeing a problem with well construction in some places and not others," wrote the study's main author, Robert Jackson.
"Poor casing and cementing problems are the simplest explanation of what we found," he said, but declined to single out well construction as the exclusive cause of the contamination.
"We need to understand why, in some cases, shale gas extraction contaminates groundwater and how to keep it from happening elsewhere," the researchers wrote.
Jackson and his crew determined that 82 percent of the 141 water wells tested had elevated levels of methane, with other additives appearing in unusually high numbers as well. In addition to finding methane concentrations at around six times the usual level, Jackson also found ethane concentrations 23 times higher in drinking water at homes near fracking sites. In ten of the sites located within one kilometer of a drilling, propane was detected in 10 separate water samples.
"The methane, ethane and propane data, and new evidence from hydrocarbon and helium isotopes, all suggest that drilling has affected some homeowners' water," Jackson wrote.
Steve Everley, a spokesman for Energy in Depth, told the Wall Street Journal that Jackon's study "is not a smoking gun to say that gas drilling is a problem."
"There is methane concentration near gas wells, but there is also methane concentrations in areas where there is no gas drilling," he said. Energy in Depth, wrote the Journal, is funded by the Independent Petroleum Association of America.
Jackson's peer-reviewed study appeared in this week's edition of the Proceedings of the National Academy of Sciences.
You can share this story on social media: