Students claim exploitation after they paid thousands to work for McDonalds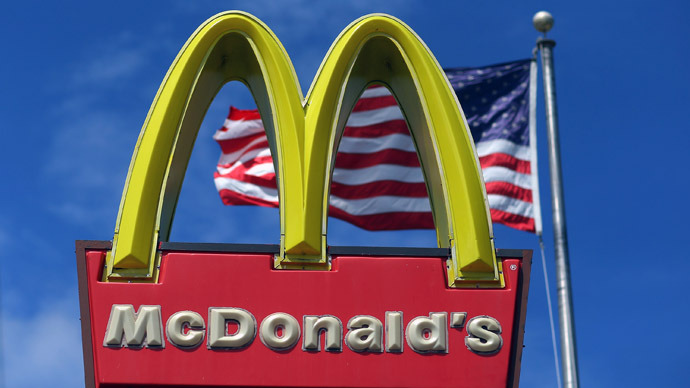 A 27-year-old Argentinian student claims he was "exploited" by a work-study program offered by a Pennsylvania McDonald's. The student claims he paid thousands to come to the US, only to find himself on call at all times and working overtime without pay.
"We have been exploited by McDonald's because we have been working for McDonald's but we did not receive overtime or the fact that we have been put to be on-call all day had to do with the way McDonald's designed our schedules," he told ABC News.
Jorge Rios, the Argentinian student, came to the US in December 2012 to work for the franchise as part of a work-study program offered by the US State Department. Rios claims that he and 17 other foreign students have all faced the same mistreatment. Each of them paid $3,000 to $4,000 for their plane tickets, visa, and other travel costs, only to undergo a level of exploitation that they never expected to face in the US.
A private company that brings foreign students to the US set Rios up with the McDonald's franchise. Rios is currently enrolled at the National University of Misiones in Posadas, Argentina, and was expecting valuable work experience in the US. He paid the hefty fees that the private company charged him to enroll him in the State Department's program. But thousands of dollars later, his experience has been nothing less than a nightmare.
Rios has launched a petition demanding that McDonald's CEO and president Don Thompson provide overtime pay and "basic labor standards" for student workers. The petition, which was launched in partnership with the National Guestworker Alliance, currently has 5,283 signatures.
"We expected to have 40 hours of work a week, but we were given as little as four hours a week at the minimum wage of $7.25 an hour," he writes in the petition. "The employer knew we were desperate for more hours, and he kept us on call to come in with 30 minutes' notice all day and night. I didn't even have time to visit the public library."
While constantly on call and making little money, Rios has so far been deprived of the cultural experience he was expecting to get out of his four-month visit. Additionally, he claims to have been forced to stay in unlivable conditions in a child-sized bunk bed. Rios and the other foreign workers each paid the McDonald's franchise $300 per month for inadequate housing.
"As many as eight of us lived in a single basement," he told ABC. "We slept on bunk beds made for children that shook and squeaked. We had no privacy whatsoever."
A spokesperson for the McDonald's franchise told the news station that it was investigating the claims. The private company that runs the students' program, Geovisions, said it is also looking into the complaints.
Meanwhile, Rios and a number of other students are currently protesting the actions of the McDonald's franchise in Harrisburg, PA, to receive overtime pay for the hours that weren't counted in their paychecks. And while Rios' experience is quickly garnering national attention, other foreign students might not be so lucky.
The State Department's J-1 Summer Work Travel Program each year allows more than 100,000 foreign college students to work in the US for up to four months. But the program has come under scrutiny before: the Associated Press last year discovered an internal memo describing widespread exploitation by deceitful labor brokers and organized criminals in the sex industry. In the most severe cases, foreign students reported being beaten, raped and forced to work as strippers after being promised other jobs in the US, like waitressing. The State Department has since implemented a number of changes that banned jobs in factories and warehouses.
But this most recent case of exploitation, as described by Rios, sheds further light on the misuses of the program. With a franchise as large as McDonald's exploiting its foreign workers, there's no telling how many smaller companies might be doing the same thing – or worse – to its work-study participants. 
You can share this story on social media: