'Trillion Dollar Debt Day:' US students write off unbearable dues in protest (PHOTOS)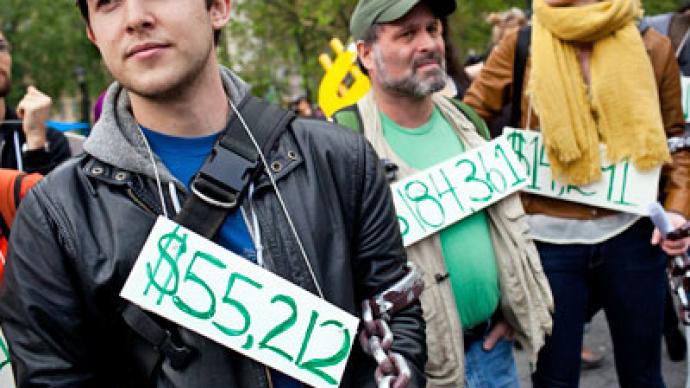 Hundreds of American students have protested the financial plight brought about by student debts across the country, as the total US student debt topped $1 trillion. The protesters burned their loan documents demanding a right to "debt-free degrees."
­In New York, hundreds of students gathered at Union Square Park holding placards reading "Debt free degrees" and "Education in America: Don't Bank on It." They also compared the sprawling student loan debt to the home loan bubble that sparked the 2008 economic crisis.

Hadi Nassar, a 31-year old dental resident, who was left with a $186,000 debt after eight years of undergraduate and dental school education, said he would not be able to make ends meet if he was to work at a community clinic.

Tyler Dickenson, 24, was forced to drop out of college after his student grant was not renewed.

"It was not worth it for a bachelor's degree," Dickenson told Reuters.

Protesters suggest the government should forgive all student debt, especially considering that it bailed out big banks that lost huge sums because of risky bets and synthetic investments.  

"It's not going to be worth it. I might as well have not come to graduate school. I might as well be working at Starbucks right now," says Katie Zaman, a PhD student in sociology at the University of Wisconsin.  She is also owes $111,000 and is a single mother.  

The Federal Reserve Bank of New York estimates that around 15 per cent of all Americans owe money for student loans and about two-thirds of the debt is owed by people under the age of 30. It is also reported to have outpaced all other forms of consumer debt.

Wednesday's demo coincided with President Barack Obama's effort to garner support for the extension of low interest rates for student loans, which, if Congress doesn't act, will reach 6.8 per cent on July 1. Obama spoke on the matter and recalled his own struggle to pay off his student debt at universities in Iowa, North Carolina and Colorado.
Occupy Wall Street demonstrators march during a protest against rising national student debt, in New York (Image from Twitter.com, uploaded by user Khalid Khan)
Carrie M: The front of the march is barricaded in at Broadway and Wall. #ows #ActUp25
OOccupy Wall street march against the high cost of college tuitions, in New York ((Image from Twitter.com, uploaded by user Khalid Khan)