NDAA critic allowed home after being stranded on island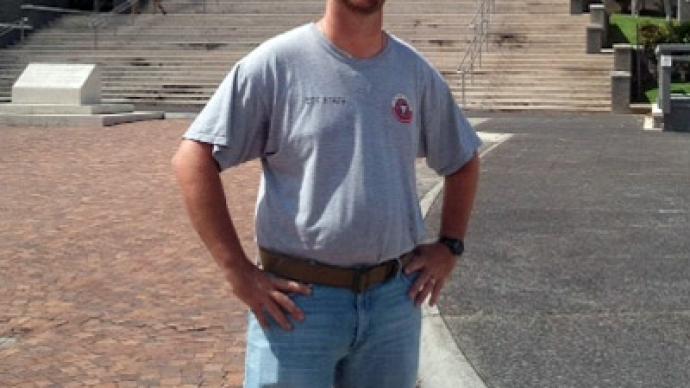 A Mississippi man has been allowed back to the United States mainland after being stranded in Hawaii last week when his name popped-up on a no-fly list mid-flight. Even still, Wade E. Hicks, Jr. says he wants some answers.
Hicks, 34, says he's yet to receive either an explanation or an apology from the US government as to why he was barred from flying from Hawaii to Japan to visit his wife earlier this month amid a trip that first took him from California to the island of Oahu with no complications whatsoever. Once he landed for his layover, however, Hicks was informed that his name raised a red flag on a federal no-fly list and he'd been unable to board an aircraft back to America."They told me I had been placed on the no-fly list even though the Transportation Security Administration had cleared me to board the plane in San Francisco," Hicks told the Sun-Herald after being first left to fend for himself in Hawaii.Hicks was eventually able to make contact with lawmakers from his home state of Mississippi and urgently reached out to the press in an effort to go public with the obstacles he was experiencing with absolutely no response from the federal government.He was eventually informed after six days of being stuck in Oahu that he could return to the continental US last week, but now he says the state is staying mum as to why he ever ended up on a no-fly list to begin with."They have not apologized nor given me any reason," Hicks tells the Associated Press.As RT reported last week while Hicks was still stranded, he suggested to talk show host Doug Hagmann a few reasons as to why the feds may have become worried. In a nutshell, Hicks has been open about his political philosophies for some time, particularly his criticisms of the government's handling of the September 11, 2001 terrorist attacks and, recently, his opposition with the National Defense Authorization Act (NDAA), the Obama-signed legislation that allows for the indefinite detention of any American without charge or trial."I was very, very vocal about the National Defense Authorization Act (NDAA) and I did contact my representative" about it, Hicks told Hagmann. "I do believe that this is tied in some way to my free speech and my political view."In his own report, Hagmann also identified Hicks as a commentator with a radio program with a known "patriotic bias" and also a member of a preparedness group that encourages self-sustainability. "He is openly vocal about the erosion of our rights – and it certainly looks like he has been proven correct. Is that now a crime worthy of being denied the ability to travel freely within the United States?" Hagmann wrote.But although Hicks has reason to believe his person ideologies left him stranded in Hawaii, he might never find out the facts behind the case. The government has clarified that he is indeed the correct Wade E. Hicks that raised a flag on their system of suspected terrorists, but as with all similar cases they cannot explicitly explain what criteria exactly could have added his name to that roster, only for it to be taken off days later."For all I know, they want to shut me up because I'm known for exercising my First Amendment right to free speech. I have never made a direct or indirect threat against any individual," Hicks tells the Sun-Herald. When the paper attempted to follow up with the TSA, they were directed to the FBI's Terrorist Screening Center, who in turn only told the Sun-Herald that freedom-of-speech issues aren't enough to earn someone a place on the coveted no-fly list, currently reserved for only around 500 US residents.
You can share this story on social media: