Cops to sticker New Orleans homes with a 'Scarlet Letter'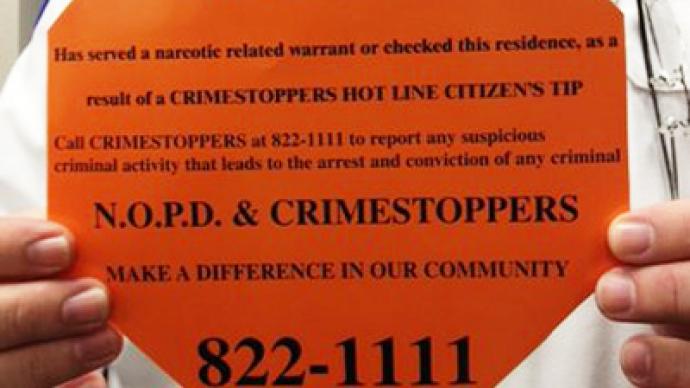 In New Orleans, Louisiana, home is about to be much more than where the heart is.
Under a new initiative announced this week by the New Orleans Police Department, private residences will also become the home of massive orange stickers that'll alert neighbors, "Hey, don't worry. There might be drugs here."New Orleans Police Chief Ronal Serpas revealed to the media this week that the NOPD will soon be responding to allegations of drug activity with a campaign that some feel will create more problems than it could solve. Acting on citizen tips provided to the New Orleans Crimestroppers Inc website, the NOPD will now descend on homes alleged to engage in drug activity and, regardless of the outcome, place a large, bright orange sticker on the home.The decal, an octagonal, stop sign-shaped adhesive, reads in large lettering, "N.O.P.D." In a much smaller font, the emblem continues, "…has served a narcotic related warrant or checked this residence as a result of a Crimestroppers hotline citizen's tip.""We're going to start placarding every house that we do a search warrant on," Serpas explained to reporters. "Neighbors will spot it and see it and know we did go to that house, we did follow up on that Crimestoppers tip…which will hopefully encourage more," he added. The stickers won't be reserved for only legitimate drug dens, though. Any tip supplied through the free, anonymous Crimestropper hotline that is followed through by law enforcement will land the house in question to host a sticker. Even if a warrant isn't served and police simply knock on the door — and even if no drugs are found.What's more, citizens are encouraged to supply tips on the Crimestoppers website with a reward that can exceed into the thousands. The process is completely anonymous and can be done online or over the phone. Crimestoppers Executive Director Darlene Cusanza tells the New Orleans Times-Picayune that the organization gets around 7,000 tips each year. Serpas adds that number of viable tips went up last year by 11 percent."People are willing communicate with our department through Crimestoppers," explains the chief.But while law enforcement believes that the stickers will do more good than harm, others aren't so certain. Some say it will infringe on privacy, personal rights and also open up a whole new option for mischievous pranksters looking to peeve pesky neighbors.Serpas insists that the stickers will relieve worried citizens concerned with neighborhood narcotic trafficking, though. "What we wanted to do is give back to that relationship because many times we actually go out on those cases and the public doesn't know that we actually follow up on a complaint." Others, however, are worried that the branding infringes on how authorities can label citizens that haven't engaged in criminal activity, and also how cops can tiptoe around the Fourth Amendment. Although the sticker wouldn't constitute a search and seizure of private property, it can cause homeowners to become agitated over police placing large, shiny stickers on their home, even if they've committed no crime."This is like a scarlet letter tattooed onto the homes of otherwise innocent people, giving them no presumption of innocence," says American Civil Liberties Union of Louisiana Executive Director Marjorie Esman. "People who have not even been arrested, let alone tried or convicted, will be singled out and have their homes marked," she tells NOLA's Times-Picayune.Authorities have fired back that the massive stickers could be removed at any time. "When our officers finish the work that they do on that house, they will put this on the house for a period of time until someone takes it off," 'explains Chief Serpas. In turn, it prompts Esman to ask another question: "If anyone can take it off at any time, then what's the point? Why should taxpayers' money be spent on something that can just be peeled off right away.""What about everybody else that lives in that home? What about the other family members who are completely innocent of wrong doing? Is it fair to them to have their house singled out for all the world to see? It serves no useful criminal purpose and it can cause grave damage to innocent people," she adds.Previously, Chief Serpas applied the idea to the city of Nashville, Tennessee, where homes were branded with a similar sticker. There, the emblems were two feet wide and neon green.
You can share this story on social media: