Reagan and Obama budget directors urge to cut Pentagon spending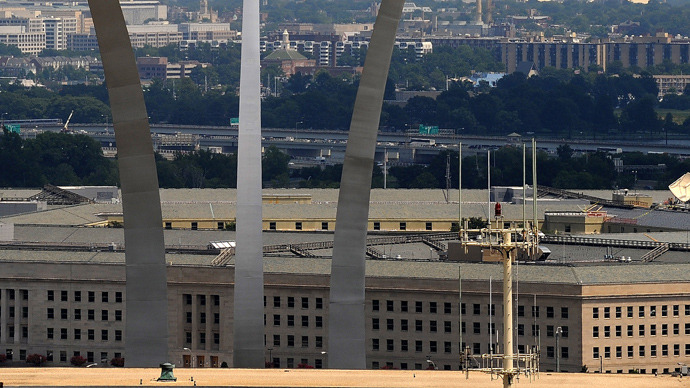 A topic of debate in Washington has brought two members of opposing parties together to actually agree on something: the United States spends too much money on defense.
Leading economists that have had active roles in earlier presidential administrations from both the Democratic and Republican parties co-hosted a panel in New York on Monday, and each agreed that the current White House could enact a number of measures to keep the economy from spiraling out of control.
Speaking at a Thomson Reuters Newsmaker event this week, David Stockman and Peter Orszag both said the US could save tremendously if it shifted spending away from the Pentagon, ending the trend of dumping a large chunk of the federal budget on maintaining overseas military bases and lengthy occupations.
Stockman, who was budget director from 1981 to 1985 under Republican Ronald Reagan, is considered by Reuters to be "a key architect of tax-cutting policies" enacted during that administration. And although Peter— a former budget director for Democrat President Barack Obama — comes from the other side of the aisle, both say military spending should be slashed to save the country.
"We ought to go back to [President Dwight] Eisenhower's standard on defense," Stockman said during the discussion. In 1960, he said, Eisenhower closed out his presidency by warning Congress that continuous spending aimed at the Pentagon would feed and foster the military industrial complex that exists today.
"Go back to that," said Stockman. "We could save two trillion dollars over the next 10 years simply by going back to the Eisenhower standard: Getting out of this imperial foreign policy of invasion and occupation; demobilize our forces."
Stockman said that having one-and-a-half million service members in the Armed Forces is "ridiculous," and that the US could sustain with a military less than one-third of that. "Why do we have a million in our reserves in National Guard?" he asked. "We are spending a quarter of a trillion dollars a year just on manpower and benefits just for all of those people I've mentioned, and we have no industrial enemies anywhere in the world."
Orszag failed to go into as great of detail as Stockman in terms of defense spending, instead emphasizing that scaling back Social Security payments and ending income tax cuts could best solve the country's financial woes.
"Orszag says governments are right to use spending to stretch out the economic adjustments to keep large segments of population from losing their jobs, which itself can cause long-lasting problems," reports Reuters.
That isn't to say, however, that he shied away from taking an axe to the Defense Department's budget in the past. After leaving the Obama White House, he authored an op-ed for Bloomberg News in 2012 where he outlined ways to pinch pennies by giving Uncle Sam less to work with.
"In the abstract, reducing defense costs seems pretty simple: Just cut back on some of the really expensive equipment," Orszag wrote. "The cost of building the F-35 fighter, for example, has been estimated at more than $100 million per plane. The new littoral combat ship, designed to operate in coastal regions, is projected to cost about $600 million per ship."
But one year later, those F-35s continue to represent not just a large sum of the country's spending, but an awfully large headache as well: after a laundry list of incidents, the fighter jets are expected to eventually cost a total of $1 trillion to develop, purchase and maintain until the year 2050.
You can share this story on social media: