Washington kept Special Forces out of Benghazi in 'purely political' move - diplomat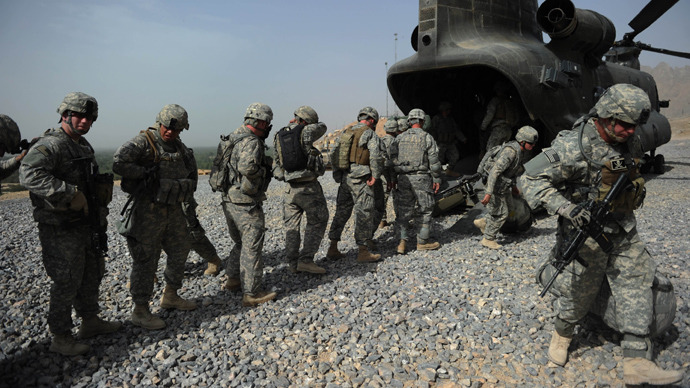 Four members of a US Army Special Forces team were held back instead of being sent to Benghazi, Libya after the assault on the American Consulate that killed diplomat Christopher Stevens and three others, according to testimony from a former top diplomat.
During an interview with Republican members of the House Oversight and Government Reform Committee, Gregory Hicks said that if the US had deployed military aircraft to fly over Benghazi it may have prevented the second attack that killed two CIA security officers. 
Excerpts of Hicks' interview with lawmakers were released to the press in preparation for his testimony in front of the committee Wednesday. 
"I think it was a terrorist attack from the get-go," Hicks is quoted as saying. "I think everybody in the mission thought it was a terrorist attack from the beginning." 
Republicans, perhaps most notably Senators John McCain of Arizona and Lindsey Graham of South Carolina, have maintained their accusation that the Obama administration has covered up the full story of the September 11, 2012 attack on the nation's consulate.  
Hicks' comments are expected to reignite a political debate that began just before the US presidential election in 2012 and could factor into any of Hillary Clinton's 2016 presidential aspirations. Despite being heavily favored to be the Democratic candidate in the next election, Clinton was secretary of state at the time of the Benghazi attack, eventually resigning because of it. 
Hicks complained that the State Department somehow prevented Special Forces from making the trip to Benghazi even after US intelligence indicated Stevens had been killed.  
"They were told not to board the flight, so they missed it," he told the GOP interviewers. "I guess they just didn't have the right authority from the right level."

He reiterated the claim that had US jet fighters assembled they could have thwarted a mortar attack from Libyan insurgents. Former Defense Secretary Leon Panetta and other military leaders have repeatedly stressed that the events in Benghazi happened too quickly for the military to effectively send help.
"I believe the Libyans would have split. They would have been scared to death that we would have gotten a laser on them and killed them," Hicks is quoted as saying. 
The GOP committee has been criticized by Democrats for seemingly examining the attack selectively, with more regard for political gain and sensationalism than for the truth. 
"It certainly seems so, so far," State Department spokesman Patrick Ventrell told the Associated Press when asked. "I mean, this is not sort of a collaborative process where the committee is working directly with us and trying to establish facts that would help as we look to keep our people safe overseas in a very complex environment." 
Jason Chaffetz (R-Utah), who will lead the House Oversight and Government Reform Committee hearing on Capitol Hill Wednesday, accused State Department leadership of trying to bury the story. 
"Early on in this fight these people made a critical bad decision in that they did not activate these people simply because they were afraid it would be labeled as terrorism," he said. "It was pure politics." 
In the interview snippet Hicks told investigators that on the night of the attack he spoke with Col. Keith Phillips, the consular defense attaché, who told him that the nearest fighter jets were located at Aviano Air Base in Italy. It would take two to three hours to get the planes into the air because they were low on fuel, Phillips responded, according to Hicks, and there was no aircraft or tanker to refuel them. 
Hicks is also expected to claim Wednesday that he was the last American to speak to Stevens before the ambassador was transported to a Libyan hospital and died after a cardiac arrest.
"Greg, we're under attack," he claimed Stevens said. "My response is, 'Okay,' and I'm about to say something else and the line clicks."
You can share this story on social media: