State Dept. intensifies evacuation of South Sudan embassy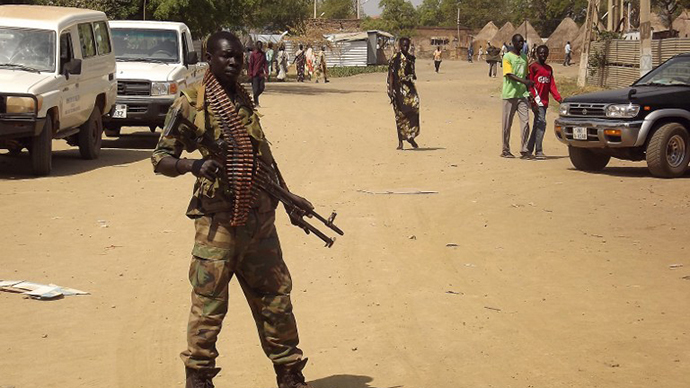 Citing a "deteriorating security situation," the United States is evacuating more of its diplomatic officials from war-torn South Sudan.
The announcement came from the US State Department on Friday even as ceasefire negotiations between the country's two warring factions were set to begin. American Ambassador Susan Page will remain in South Sudan's capital, Juba, but roughly 20 diplomats and their families and staff have been evacuated.
Multiple outlets are reporting that rebel forces have gained control of the capitals in the country's Jonglei and Unity states, where they are believed to be preparing an advance on Juba.
"We are taking this step out of an abundance of caution to ensure the safety and security of our diplomatic personnel," said State Department deputy spokeswoman Marie Harf. "As a result of this drawdown, the US Embassy in Juba will not be able to provide consular services to US citizens in South Sudan."
American citizens can still seek out consular services from the US embassy in neighboring Kenya, but the State Department emphasized it still "strongly recommend[s] that US citizens in South Sudan depart immediately."
Despite the drawdown, the US announced nearly $50 million in humanitarian aid and said it remains "deeply and actively committed" to halting the violence as it continues to rip across the country.
Fighting in South Sudan first broke out last month when a skirmish in Juba led President Salva Kiir to accuse political rival and former Vice President Riek Machar of attempting a coup. For his part, Machar has accused Kiir of behaving like a dictator.
Complicating the situation is that the conflict is largely split along ethnic lines – with Kiir's Dinka tribe on one side and Machar's Nuer on the other. As we reported in late December, however, the United Nation's humanitarian chief maintains the situation is a "political crisis" and has boosted the number of peacekeeping forces in the nation from 7,000 to 12,500.
Preliminary peace talks scheduled to begin January 1 finally began Friday in Ethiopia, although the two sides have yet to meet face-to-face.
"Both delegations are meeting the mediators separately," Dina Mufti, a spokesman for Ethiopia's Foreign Ministry, told Reuters. "We hope to bring both sides into face-to-face talks soon."
According to Reuters, more than a thousand people have been killed since fighting broke out. More than 200,000 have been displaced from their homes, a number that the UN expects to double in three months.
You can share this story on social media: