Billionaire George Soros behind major push for marijuana legalization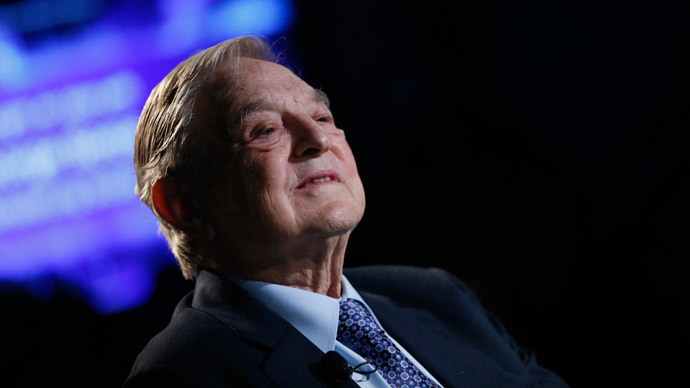 Hungarian-American billionaire and philanthropist George Soros is no stranger when it comes to throwing around money, but the former hedge fund manager is making headlines over some major donations he's made to help legalize marijuana.
On the heels of the approval of two of the United States' first recreational laws in Colorado and Washington, other locales across the country are considering implementing policy changes that could decriminalize pot, ease penalties for users or eliminate weed laws altogether. Advocacy groups are leading the campaign to crush marijuana prohibition from coast-to-coast, and 83-year-old Soros is helping line the pockets of those making that push.
On Wednesday this week, Kelly Riddell at The Washington Times pulled back the curtain to reveal details about some of the roles that Soros has played in the pro-weed debate, and helped explain how the billionaire's many foundations are fighting the war against pot prohibition.
"Through a network of nonprofit groups, Mr. Soros has spent at least $80 million on the legalization effort since 1994, when he diverted a portion of his foundation's funds to organizations exploring alternative drug policies, according to tax filings," Riddell wrote.
The Soros-affiliated Foundation to Promote an Open Society donates roughly $4 million annually to the Drug Policy Alliance, Riddell added, a nonprofit group that describes itself as the nation's leading organization promoting drug policies that are grounded in science, compassion, health and human rights. Soros is among the group of board members who help steer policy reform efforts undertaken by that organization, which has contributed to the successful attempts in both Colorado and Washington state to legalize recreational marijuana, as well as in Uruguay where last year the South American country became the first in the world to allow for the regulation, distribution and sale of weed to legal adults.
Records obtained by the Times also reveal that Soros cuts other substantial checks annually to the American Civil Liberties Union, "which in turn funds marijuana legalization efforts," Riddell wrote, as well as the Marijuana Policy Project which funds state ballot measures. In 2013, the MPP ranked Soros as the ninth most influential marijuana user in the US, behind President Barack Obama, television host Oprah Winfrey and a handful of other politicians and celebrities.
The co-director and spokesperson for that group, Mason Tvert, told the Times that MPP and the Drug Policy Alliance are planning to support full legalization measures in the near future in the states of Arizona, California, Massachusetts, Maine, Montana and Nevada, and Soros himself has advocated on behalf of previous attempts to abolish pot prohibition in at least one of those locales.
Ahead of an attempt in November 2010 to legalize weed in California through the failed Proposition 19, Soros wrote an op-ed for the Wall Street Journal in which he called the since-failed initiative "a major step forward."
"In many respects, of course, Proposition 19 already is a winner no matter what happens on Election Day," Soros wrote then. "The mere fact of its being on the ballot has elevated and legitimized public discourse about marijuana and marijuana policy in ways I could not have imagined a year ago."
Soros declined to be interviewed for the Times' article published this week, but he's more than likely enthused about the approval of pro-weed laws in Colorado and Washington carried out after Prop 19 was defeated in the polls. And with regards to initiatives up for vote during the 2014 election, Riddell wrote that Soros is once again playing a substantial role.
"In Florida, Mr. Soros has teamed up with multimillionaire and Democratic fundraiser John Morgan to donate more than 80 percent of the money to get medical marijuana legalization on the ballot through its initiative 'United for Care, People United for Medical Marijuana,'" Riddell wrote, and the MPP is "focusing a lot of time and resources passing bills" in Delaware, Hawaii, Maryland, New Hampshire, Rhode Island and Vermont, according to her report.
"It's only a matter of time before marijuana is legalized under federal law," Tom Angell, founder and chairman of the Marijuana Majority advocacy group, told the Times. "We now have 20 states plus the District of Columbia considering legalization efforts, two states have already legalized it for all adults over the age of 21 — politicians will have to follow the will of the people on this."
As RT reported previously, the results of a Pew Research Center poll released last year found that 52 percent of Americans support the legalization of marijuana. Despite recently approved laws in Washington and Colorado, marijuana remains an illegal narcotic under federal law.
You can share this story on social media: