Solyndra scandal's key players pay big bucks to attend Obama fundraiser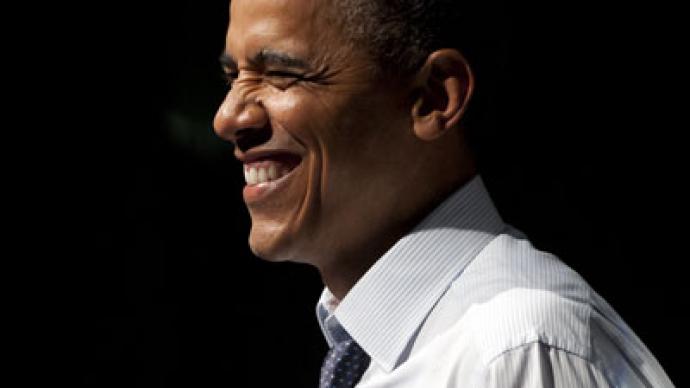 US President Barack Obama shook hands with some of his wealthiest supporters Tuesday night at a fundraising shindig in San Francisco. Also on hand, though, was a matter the commander-in-chief just can't seem to shake: his failed deal with Solyndra.
Around sixty patrons paid $35,800 a piece to attend a party in honor of President Obama this week, including a pair of gentlemen who have become central figures in an energy debacle that has haunted the Oval Office since last year. Among those in attendance were two key players in the Solyndra scandal.President Obama touted Solyndra, a California solar-panel start-up, as an example of perfect American entrepreneurship early on in his presidency. Last year, however, the infant green energy company filed for bankruptcy, despite the president earlier approving a gigantic loan guarantee worth $535 million for the Silicon Valley start-up. The company had borrowed all but $8 million of the massive loan before calling it quits late last year, a move that prompted Obama's opponents to ridicule the president over what some said was "a dubious investment" and even initiated an investigated by the FBI.Nearly a year after Solyndra first filed for bankruptcy, the scandal took center stage again this week after Monday's fundraiser funneled in donations from Matt Rogers, a former adviser at the Department of Energy that helped approve the loan as part of the stimulus plan, and Steve Westly, a venture capitalist that warned the White House against offering a deal to Solyndra before the president offered his own endorsement. Darren Samuelsohn of Politico was on-hand at Monday's fundraiser and writes that it appears that the president isn't exactly distancing himself from one of the most costly scandals of his administration.Officials within the campaign to elect Massachusetts Governor Mitt Romney for president have already attacked the administration for still maintaining ties with people privy to the Solyndra deal. In a statement addressing the latest news, Romney spokesman Ryan Williams writes, "The Obama Administration betrayed American taxpayers when it dumped hundreds of millions of public dollars into Solyndra while ignoring clear warnings about the company's dire financial situation.""President Obama's first term worked out well for his donors who got special access and taxpayer money for their failed ventures. It hasn't worked as well for the 23 million Americans struggling for work in the worst economic recovery our country has ever had," Williams adds.According to Samuelsohn, Westly was spotted poolside during the event, "juggling lemons, entertaining kids at the party." The writer adds that the long-time Solyndra skeptic sat at one of the tables farthest away from the president during an address that delivered by Mr. Obama.
You can share this story on social media: