Army soldier pleads guilty in scheme to steal fuel trucks from base in Afghanistan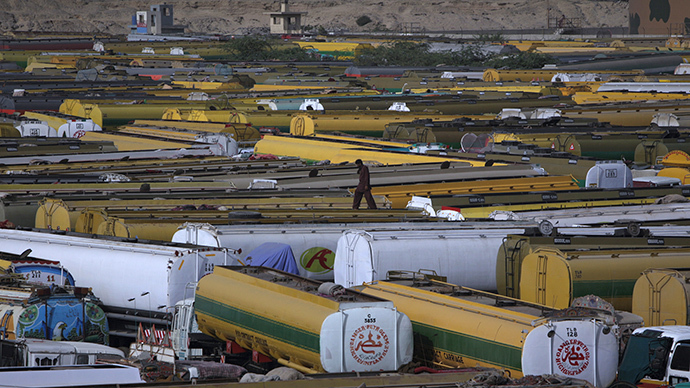 ​A soldier in the US Army pleaded guilty Wednesday of taking nearly $60,000 from an Afghan trucking company as part of a plan to divert fuel trucks from a US military post. The soldier falsely recorded that the fuel had been used and charged accordingly.
Spc. Albert Kelly III appeared in US District Court in Louisville, Kentucky, where he admitted to diverting fuel-carrying trucks from Forward Operating Base Salerno, located near the Afghanistan/Pakistan border, and fudging information on the deliveries in exchange for cash.
The 28-year-old faces up to 10 years in prison, according to the Associated Press, and answered only with "Yes, sir" and "No, sir" when he was addressed by US Magistrate Judge James Moyer.
Prosecutors alleged that Kelly diverted fuel from November 2011 through January 2012, ultimately misplacing 25,000 gallons a fuel worth $4 each. It is expected that one of the conditions of Kelly's sentence will be repaying that $100,000.
Don Meier, Kelly's public defender, told reporters that Kelly is scheduled to leave the military in July, but a sentencing before may make it more likely that he will be dishonorably discharged. This characterization of service means that a soldier will lose all forms of military benefits. It is often equated with a felony conviction, with US federal law denying dishonorably discharged veterans the right to own personal weapons.
"The felony conviction is going to carry lifelong implications, obviously," Meier told AP.
Kelly is up against an intimidating sentence but he is far from the only veteran who has been implicated in such a crime. Sgt. Bilal Kevin Adullah pleaded guilty to accepting cash to divert American trucks into Afghan hands, and four people from Colorado have also pleaded guilty to involvement in stealing and re-selling fuel.
Former US Army Specialist Stephanie Charboneau, 35, was sentenced to 87 months in prison this month. Court documents indicate that she and co-conspirators falsified travel releases for fuel from FOB Fenty in Jalalabad, Afghanistan to another military base. When those trucks were filled with fuel, and the drivers used the documents to leave FOB Fenty, they would disappear.
Charboneau helped organize the theft of approximately 70 fuel trucks, costing the US military more than $1.2 million, AP discovered.
Such investigations are not unique to the Army, though. Last year, the US Navy announced it has opened an investigation into three senior officials accused of conspiring to charge the military $1.6 million for homemade firearm silencers that cost approximately $8,000 to produce. The three officials oversaw highly classified Naval programs, yet allegedly ordered a shipment of the silencers from a mechanic – who one of them was related to – at over 200 times the original cost.
You can share this story on social media: