Ex-NSA chief equates hacktivists who defend Snowden to terrorists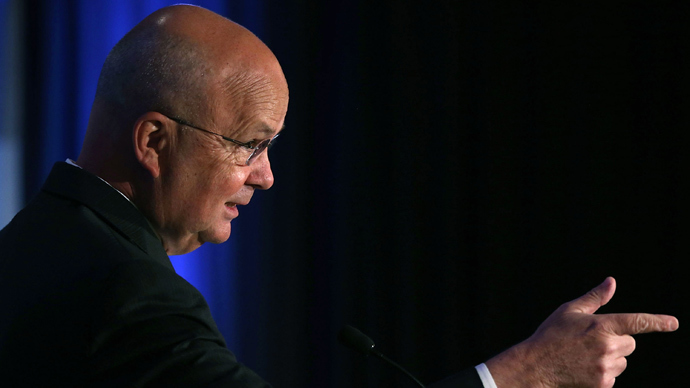 Michael Hayden, the former head of CIA and NSA, hypothesized that a massive hacker attack on the US was possible from "sex-starved" activists like Anonymous in retaliation for any future prosecution of whistleblower Edward Snowden.
"If and when our government grabs Edward Snowden and brings him back here to the United States for trial, what does this group do?" the retired Air Force general asked in a speech to Washington group, the Bipartisan Policy Center, on Tuesday.

Hayden speculated that Snowden supporters would come after no one but the US government. However, he said that they would have a hard time attacking 'dot-mils', the well-protected military computer networks in the .mil internet domain.

"So if they can't create great harm to dot-mil, who are they going after?" he pondered, according to the Guardian. "Who for them are the World Trade Centers? The World Trade Centers, as they were for Al-Qaeda."

The general was referring to hackers and groups concerned with internet transparency, whom he lumped together as "nihilists, anarchists, activists, Lulzsec, Anonymous, twentysomethings who haven't talked to the opposite sex in five or six years."
Over the top comments from Hayden. Equates hacktivist & transparency grps w/ cyber terrorism. A new 'enemy'? http://t.co/kuWj0HWfkL

— Thomas Drake (@Thomas_Drake1) August 7, 2013
Hayden didn't elaborate on his ominous suggestion, and stated when asked what he expected from any "terrorist" attack that he was being "entirely speculative, not predictive."
"I'm just trying to illustrate that you've got a group of people out there who make demands, whose demands may not be satisfiable [sic], may not be rational, from other points of view, may not be the kinds of things that government can accommodate," Hayden said.

The comments spawned a backlash on Twitter.
Why would nihilists care about Snowden? They're nihilists Hayden, they don't believe in anything! http://t.co/vRO0Lhhzpl

— Tom Cross (@_decius_) August 7, 2013
Hayden headed the NSA between 1999 and 2005 before leaving for the CIA. Under him the agency with a mission to collect foreign intelligence began dragnet surveillance of domestic phone records and internet communications under the powers of the Patriot Act.
The practices were made public this year by former NSA contractor Edward Snowden, who is currently residing in Russia. Moscow granted him temporary asylum, rejecting US demands to hand him over for prosecution on espionage charges.
You can share this story on social media: