Grocery store 'smart shelves' will target consumers in real-time based on their facial features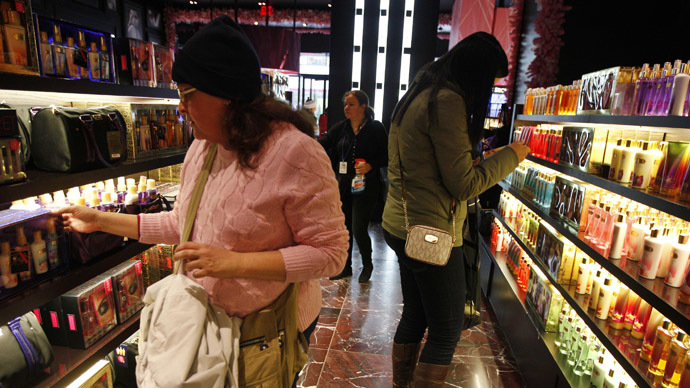 Going to the grocery store is about to get a lot more personal: one of the biggest names in food is preparing to launch "smart shelves" to gather intelligence on consumers and customize their shopping experience.
Mondelēz International, the parent company of Kraft Foods, plans on having their space-age smart shelves rolled out on supermarket floors sometime in 2015. And if all goes as planned, soon after the multi-national corporation behind products such as Chips Ahoy, Oreo, Wheat Thins and Ritz will begin collecting analytics about impulse buys and learn new ways to bring customers the products they crave.

The devices — still in development — will rely on high-tech sensors to snoop in on the facial features of shoppers and predict roughly their age and sex. From there, a database of intelligence can be matched in real-time and allow Mondelēz to make recommendations, offer discounts and practically any other imaginable option. All, of course, specific to how the company's data perceives that type of customer.
"Knowing that a consumer is showing interest in the product gives us the opportunity to engage with them in real-time," Mondelēz CIO Mark Dajani told the Wall Street Journal recently.
Speaking to the Journal's Clint Boulton, Dajani described how customizing what each consumer sees offers an array of new opportunities to the retailer.
"When people walk by, it's a missed opportunity," Dajani told the paper. "We must know how the consumer behaves in the store."
And by relying on behavior and not identity, Dajani has had an easier time than one might imagine distancing the smart shelves from any sort of surveillance tool that actually identifies its subjects. Mondelēz's product won't involve cameras at all, instead prefering sensors to shape together the likely age and sex, according to the Journal, and matching that information about what the company already knows.
"The sensors use this data to alert the display to feature something that a teenage boy is more likely to buy, such as gum or a chocolate bar," Boulton wrote. "The shelves also use sensors based on Microsoft Corp.'s gesture-based Kinect for Windows technology and if the boy looks at the shelf long enough, the shelf's display may play a video targeted for his demographic."
Those shelves, he added, will be more than just forward-facing interfaces to engage the customer. Weights sensors will reveal when products are picked up, and that information could also alert the grocer that its time to re-order — or re-think their inventory.
Boulton reported that the company may consider implementing data already stored in the enterprise database system it already has, and said no personally identifiable information will be collected about any customer caught shopping by the smart shelves' sensors.
The end result, some hope, could be quite lucrative.
Dajani described the smart shelves as just the latest opportunity to connect another item to the ever-growing "Internet of Things" concept, essentially paving the way for anything imaginable to be wired to an information network. RawStory reporter Travis Gettys drew a correlation between Boulton's article and another recent story in the Journal about a Gartner Inc. report which determined the technology being developed for smart shelves and similar products could generate $1.9 trillion by 2020.
You can share this story on social media: