$6 bn worth of contracts misplaced by State Department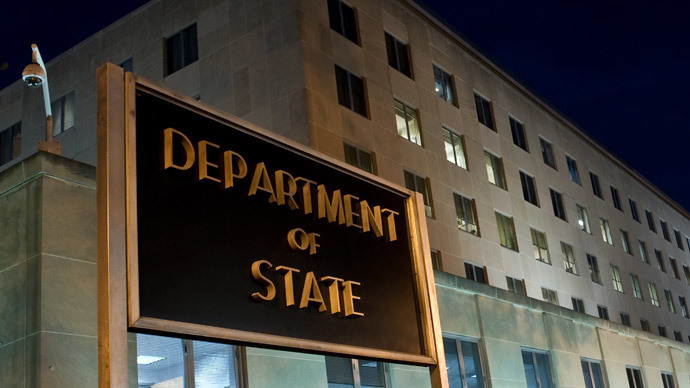 The US State Department is unable to explain how it spent billions of dollars worth of contract funds in areas throughout the world, according to a newly unveiled report by the department's internal watchdog.
The Office of Inspector General explained in a March 20 "management alert" to department leaders that approximately $6 billion has gone unaccounted for over the past six years. The note said the number of missing documents "exposes the department to significant financial risk" and is a dangerous lack of oversight.
"It creates conditions conducive to fraud, as corrupt individuals may attempt to conceal evidence of illicit behavior by omitting key documents from the contract file," the inspector general wrote. "It impairs the ability of the Department to take effective and timely action to protect is interests and, in turn, those of taxpayers."
There is no indication that representatives within the Bureau of Administration's Office of the Procurement Executive (A/OPE) fraudulently filed any of the missing contracts, only that State Department brass misplaced the necessary paperwork. The omissions are especially notable, though, because of similar memos that have noted budgetary oversights in the past.
In one instance, the State Department could not locate files regarding payments to contractors assisting US military forces in Iraq. That incident, one of the "repeated examples of poor contract file administration," according to the inspector general, included contracts worth $2.1 billion.
An unrelated audit of the Bureau of African Affairs indicated the department could not supply the "complete contract administration files" for even one of the eight contracts, worth a total of nearly $35 million, under examination.
"The failure to maintain contract files adequately creates significant financial risk and demonstrates a lack of internal control over the Department's contract actions," the report noted.
While no proof of fraudulent payments was mentioned, the Office of Inspector General did warn that lax record-keeping standards does create the potential for abuse.
"OIG recommends that the Under Secretary for Management ensure that contracting officers and their supporting personnel, and A/OPE specialists conducting oversight visits, have resources sufficient to maintain adequate contract files in accordance with relevant regulations and policies," the officials recommended.
The report also encouraged the State Department to hold employees accountable when they are found to have committed such infractions.
The State Department, which is responsible for a vast number of duties relating to international relations, has also announced that it will publish ambassador qualifications from now on. The Obama administration has come under fire because of the perception that not all newly appointed State Department ambassadors were up to the task of heading up US relations in other countries. The necessary "certificates of demonstrated competence" were previously only available to lawmakers, but will now be made available to the public, American Foreign Service Association President Robert Silverman told USA Today.
"We believe transparency of the nomination process is an important step," he said Friday. "We very much appreciate the efforts of the White House and State Department, and AFSA – as the voice of the Foreign service – looks forward to working to assure that our country is represented by the very best men and women at our diplomatic missions abroad."
You can share this story on social media: