State Dept. envoy 'absolutely convinced' Guantanamo prison will close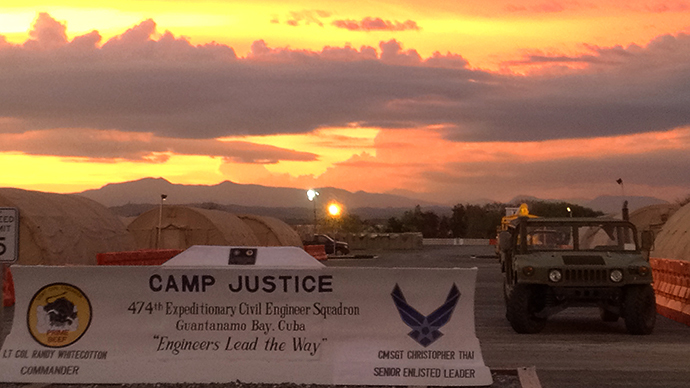 Five years ago this month, newly-elected President Barack Obama signed an executive order meant to close the United States' controversial military prison at Guantanamo Bay. Now a State Department official says he's certain that day is finally forthcoming.
It's not exactly an absolute declaration, but Clifford Sloan — the recently appointed State Department special envoy for closing down the prison at the Guantanamo Bay Naval Base in Cuba — told PBS this week that he believes that the 155 remaining detainees will be transferred from Gitmo in the foreseeable future.
Newshour host Judy Woodruff was speaking with Sloan for a segment on the prison that aired on Thursday this week when she asked him if he believes the end of incarceration is near for more of the men still held there by the US.
"Absolutely," Sloan said. "We are going to close the Guantanamo detention facility. I have no doubt about that. And President Obama is very strongly committed to that."
Indeed, Mr. Obama has promised repeatedly since first vying for the White House during the 2008 presidential election that his administration would relocate the accused terrorists and war criminals confined at Gitmo — and even signed an order insisting he'd do as such during his first week in office. By then the prison had long been infamous for allegations of human rights abuses endured by detainees during the course of what is now a nearly 14-year-old operation, but today the Obama administration still comes under attack by Gitmo opponents for failing so far to act on that promise.
But Sloan — who was instated as the State Dept. special envoy only seven months ago — says things have changed during the last half-a-year. The State Dept. had spontaneously shuttered its Office of Guantanamo Closure last January, and Sloan's appointment as envoy occurred after a five month lull. In recent weeks, however, a handful of detainees have been released — including nine in December alone.
Speaking to PBS, Sloan said the administration is serious with moving forward at that pace. Issues with relocating inmates to other locales are a large problem, however, and he declined to offer Woodruff any estimate as to when the last detainee transfer could come about.
"We don't want to be looking backward. We want to be looking ahead," Sloan said. "And we feel very strongly there is a new air of possibility on moving forward on closing the Guantanamo detention facility. That is what we are focused on. We don't want to go over what happened in the -- during the last several months and the years when there was that slump. We feel very good about moving ahead now."
"I'm not going to give you a time frame on it, but I am absolutely convinced that we are going to close the Guantanamo facility," he added.
"I can't say how long it's going to take because there are variables, and I don't want to give an artificial timeline. I don't want to just pluck a date out of the air and say it," he continued. "But those who have been approved for transfer, we will do everything we can to transfer those. Those who are not approved for transfer will have the new administrative hearing."
When the Pentagon announced late last month that it had transferred the last three ethnic Uighur Chinese nationals imprisoned at Guantanamo Bay, Defense Department press secretary Rear Adm. John Kirby called it a "significant milestone in our effort to close the facility."
"I do see the administration committed to whittling down the numbers of detainees remaining at Guantanamo," Dixon Osburn of Human Rights First told the Wall Street Journal at the time.
Should the State Dept. move forward with relocating detainees, it would no doubt come as a blessing for many who have been awaiting that news for a while now. Of the facility's 155 detainees, 76 have already been approved for transfer.
You can share this story on social media: