Another encrypted Internet service shutting down after Lavabit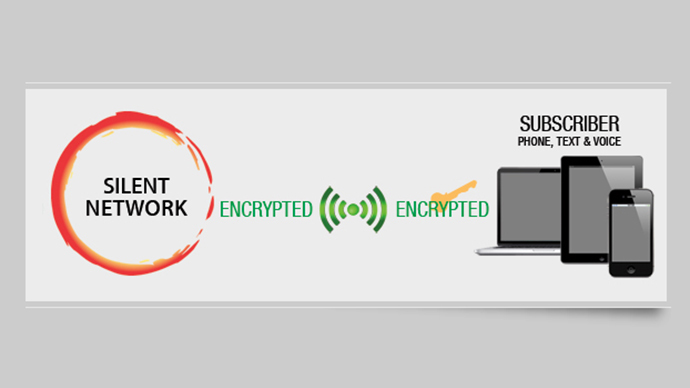 Silent Circle, a secure email service that provides customers with an encrypted way of sending messages, announced Thursday that it is shutting down only hours after a company offering a similar product said the same.
Shortly after the owner and operator of Lavabit.com wrote that his nine-year-old encrypted email service was shutting down in order to avoid becoming "complicit in crimes against the American people," Silent Circle said Thursday they'd be following suit.
"We see the writing the wall, and we have decided that it is best for us to shut down Silent Mail now," founder Jon Callas wrote in a blog post.
Callas helped start Silent Circle in 2011 along with Phil Zimmermann, the creator of the widely-used email encryption program Pretty Good Privacy, or PGP.
"We've created an architecture that doesn't share cryptographic keys with the servers that we control. So if the government tries to persuade us to hand over something that we might have on our servers, we can't give them the keys and we can't give them the decrypted messages. We don't keep logs of the connections between people. So a court order can't make us give them something we don't have," Zimmerman told RT earlier this year.

In Thursday's statement, Callas wrote, "We have not received subpoenas, warrants, security letters or anything else by any government," but was acting now in order to avoid any federal interference.
Hours earlier, Lavabit founder Ladar Levison said he was taking his fight to the United States Fourth Circuit Court of Appeals, but insisted he was barred from discussing what legal action prompted the shut-down in the first place.
"I feel you deserve to know what's going on — the First Amendment is supposed to guarantee me the freedom to speak out in situations like this. Unfortunately, Congress has passed laws that say otherwise," wrote Levison. "As things currently stand, I cannot share my experiences over the last six weeks, even though I have twice made the appropriate requests."
Levison has since stayed mum about the status of the site, but his announcement came only weeks after National Security Agency leaker Edward Snowden was reported to be using Lavabit to send and receive emails.
On Friday, the digital library Cryptome published a criminal docket filed in the US District Court for the District of Maryland this past May in which Lavabit was compelled for data on the user "Joey006." According to the docket, a search warrant was executed as of June 10, 2013.
But although both Silent Circle and Lavabit relied on highly-secure encryption to protect the contents of emails, representatives from both sites hinted that even that might not be enough to keep Uncle Sam from snooping.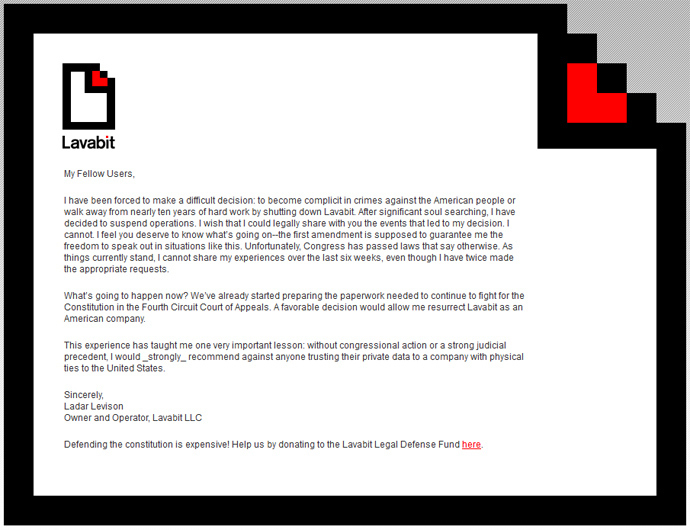 "This experience has taught me one very important lesson: without congressional action or a strong judicial precedent, I would _strongly_ recommend against anyone trusting their private data to a company with physical ties to the United States," Levison said in his statement.
Hours later, Silent Circle's Callas echoed that warning.
"Silent Mail has thus always been something of a quandary for us. Email that uses standard Internet protocols cannot have the same security guarantees that real-time communications has. There are far too many leaks of information and metadata intrinsically in the email protocols themselves. Email as we know it with SMTP, POP3 and IMAP cannot be secure," he wrote.
Callas added that Silent Circle plans to continue its encrypted phone and text services, but will be shuttering their email offerings beginning next Monday.
"We'd considered phasing the service out, continuing service for existing customers and a variety of other things up until today. It is always better to be safe than sorry, and with your safety we decided that the worst decision is always no decision," Callas wrote.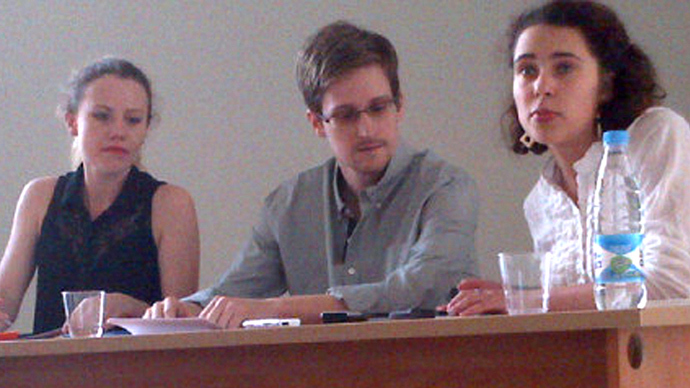 Catching up with the website TechCrunch, Silent Circle CEO Michael Janke said "It goes deeper" than just concerns that his service isn't secure enough.
"There are some very high profile people on Silent Circle- and I mean very targeted people- as well as heads of state, human rights groups, reporters, special operations units from many countries. We wanted to be proactive because we knew USG would come after us due to the sheer amount of people who use us- let alone the 'highly targeted high profile people.' They are completely secure and clean on Silent Phone, Silent Text and Silent Eyes, but email is broken because govt can force us to turn over what we have. So to protect everyone and to drive them to use the other three peer-to-peer products- we made the decision to do this before men on [SIC] suits show up. Now- they are completely shut down- nothing they can get from us or try and force from us- we literally have nothing anywhere," he said.
In a blog post Thursday afternoon, attorney Jennifer Granick of the Stanford Law School's Center for Internet and Society, wrote, "America invented the Internet, and our Internet companies are dominant around the world. But the US government, in its rush to spy on everybody, may end up killing our most productive industry."
Silent Circle's Zimmerman previously told RT that his company saw "a huge surge in orders" following the NSA surveillance documents disclosed in June by Edward Snowden. Lavabit said it was processing around 200,000 emails a day before shutting down abruptly on Thursday.
You can share this story on social media: