Privacy services companies stand up against Big Brother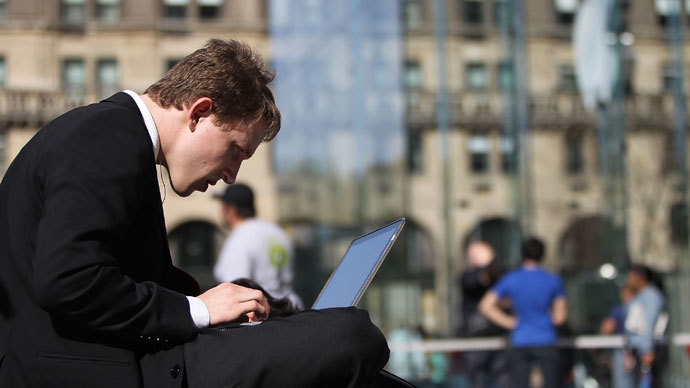 Encryption communication services companies are gaining momentum as public trust in US technology companies and social media networks are at an all-time low following explosive revelations by Edward Snowden
"It's going crazy. You know a lot of people suspected the US government was spying on Americans. But now we have this confirmation so everybody is contacting us now. We've had a huge surge in orders," Phil Zimmermann, CEO of Silent Circle, encrypted communications firm has told RT's Marina Portnaya.

The start-up encrypts phone calls and texts so that users don't leave a trail and companies that hire the company pay an annual membership of $120,000.

"We've created an architecture that doesn't share cryptographic keys with the servers that we control. So if the government tries to persuade us to hand over something that we might have on our servers, we can't give them the keys and we can't give them the decrypted messages. We don't keep logs of the connections between people. So a court order can't make us give them something we don't have," Zimmermann says.

Another company that is bearing the fruits of the NSA's misfortune is Seecrypt, a mobile application that encrypts information sent over the mobile phone. The South African company has clients in 200 countries, with the biggest demand stemming from the UK and US.

"It's just coming and it's not stopping. It's growing every day. Probably four-hundred percent growth in the last three weeks," Mornay Walters, CEO of Seecrypt has told RT.

The application allows you to create a new identity with a secure phone number. It works on any carrier and uses military-grade encryption to secure all VoIP data. All calls and messages are transferred as an encrypted data stream making it very difficult for hackers to steal data. The service is available for $3 per month and is available for iOS and Android.

"Seecrypt was born out of this need to protect the everyday man. Not just in your own country but when you travel to other countries when spying is, as you can call it, the order of the day," Walters added.

Search engines that provide anonymity such as Start Page have given their users peace of mind. "Take a deep breath. You're safe here," says their domain as traffic doubled since the Snowden leaks, jumping to nearly 4 million queries per day.

The Dutch firm has the competitive advantage as it does not record the IP addresses of users or use tracking cookies. 
"We delete your IP address, search terms. At the end of the day we have no record of any even having been on our website," Katherine Albrecht, Co-Founder, StartPage.com told RT.

Watch RT correspondent Marina Portnaya's report for more on the subject.

You can share this story on social media: