At least three shot at Texas college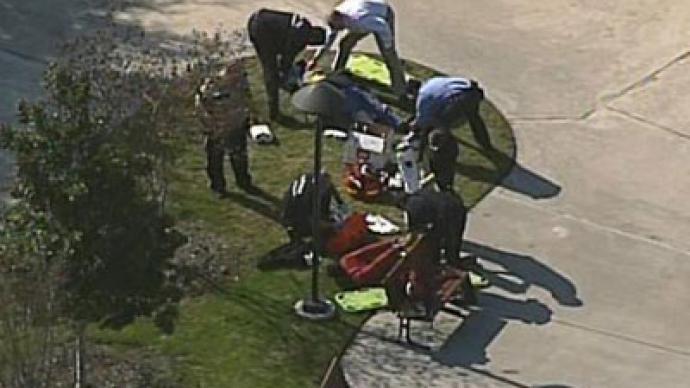 Officials in Houston, Texas, say three people have been injured in a shootout on a college campus. Two men drew arms in an argument, wounding each other and a passerby. This is the fifth school shooting to date in the US since the beginning of 2013.
Lone Star College's North Harris campus has been on lockdown Tuesday after a gunfight broke out between two individuals, both of whom have been apprehended by police. Authorities were alerted by a 911 call at 12:31 pm local time and descended on the school, detaining one suspect, reported by police to be a student. The other person of interest, a black male estimated to be between 18 and 20 years old, was seen fleeing the area before eventually being apprehended.Obviously fearing another campus massacre like the one claiming 26 lives just over a month ago at a Connecticut elementary school, the school affiliated with the North Harris campus ordered students to be locked up in the classrooms or wherever they were at the time.The college bulletin reads that "Students, Faculty and Staff are advised to take immediate shelter where you are. Do not enter the campus until notified further." As a precaution, other schools in the area have also been locked down.
Sheriff's Office of the Harris County has issued a statement in which it identified one of the two suspects as Carlton Berry, who has been charged with aggravated assault. Berry remains in hospital with wounds suffered in the shooting.The identity of the other man has not been disclosed.Local news reports that two of those shot suffered "multiple gunshot wounds" and are in a serious condition at a local hospital. A maintenance man was also wounded after being caught in the crossfire.Additionally, the network reports that agents with the Federal Bureau of Investigation and the Bureau of Alcohol, Tobacco, Firearms and Explosives have arrived on the scene to assist the local authorities.Jed Young, executive director of a school affiliated with the campus, told CNN that two suspects are thought to have fired shots at one another, catching a passing maintenance man in the crossfire. Witness reports vary, claiming between six and nine shots were fired.
"We know that shots have been fired and we are in a shelter-in-place situation on the campus," said Vicki Cassidy, manager of media relations for Lone Star College System, tells the Houston Chronicle. "It's a pretty chaotic scene at this point in time."
You can share this story on social media: