Jets escort planes on 9/11 after sexy terror scare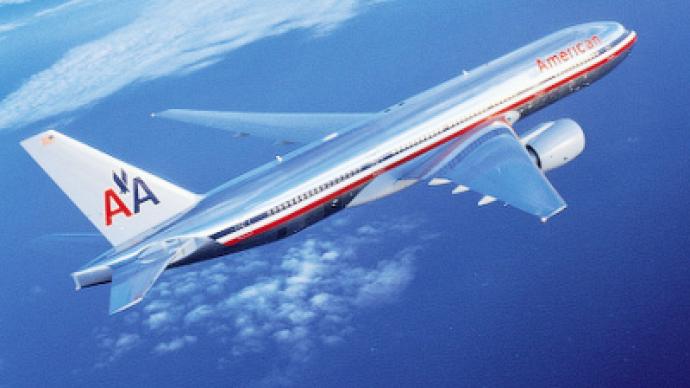 What's a better way to remember 9/11 than having sex on an airplane?
A couple commemorated the tenth anniversary of the terrorist attacks exactly that way yesterday, but not before F-16 fighter jets were scrambled to escort the commercial plane following reports of suspicious activity.Two different incidents occurred in the air on Sunday, and though they are believed to have been unrelated, authorities were called in to take matters seriously, especially following reports of a credible but unconfirmed possibility of an attack in New York City or Washington DC.In the first incident on September 11, 2011, a passenger on an American Airlines flight from Los Angeles to New York made a scene on Sunday after becoming alarmed by the length that three separate patrons had spent in the bathroom. Apparently the passenger became suspicious of their "activity" and alerted plane personnel after repeated, extended treks to the toilet. A spokesman from American Airlines told the New York Post that "A concern was raised,'' but couldn't comment as to the actual details. They did add, however, that the toilet complaint was indeed alleged from a passenger and not a crew member.Two 4-16 fighter jets began tailing the flight around 100 miles northwest of JFK airport and accompanied it all the way into New York where it landed safely, and 15 minutes early at that. Police did not allow any passengers to exit until they performed a full search of the plane. Witnesses and the alleged bathroom users were interviewed on the scene. The Associated Press adds in a report of their own that three people were locked inside the bathroom when it landed at JFK, quoting an unnamed official. Authorities have yet to confirm who was in the bathroom, or why they were in the bathroom, but American Airlines spokesman Tim Smith said in a statement, "In our eyes, it's a big nothing." Another incident caused commotion yesterday as well after a high-altitude rendezvous did not go as planned on a plane heading into Detroit. Fighter jets were once again called in to escort a passenger plane, this time as a Frontier Airlines flight was making its way into the Motor City. In this particular incident, passengers became peeved by another potty party, but this time concern arose after a man was waiting for around 20 minutes to use the toilet. Apparently two others had locked themselves inside the latrine, in what an ABC affiliate says involved "intimate relations" between the couple.The FBI responded to the Frontier Air incident but downplayed the sexcapades, instead saying only that they exercised "an abundance of caution" over the incident and called in the fighter jets as a precaution. Authorities swept the plane for any contraband but turned up nothing. Three people were detained by police once landing at Detroit's Metropolitan Airport, but they were all released following questioning.Whether these incidents escalated over an x-rated romp or a bowel movement gone bad, one thing is clear: when you can't have sex or poop on a plane without raising concern, clearly the terrorists have won.
You can share this story on social media: