Sex doll stunt lands high schooler in jail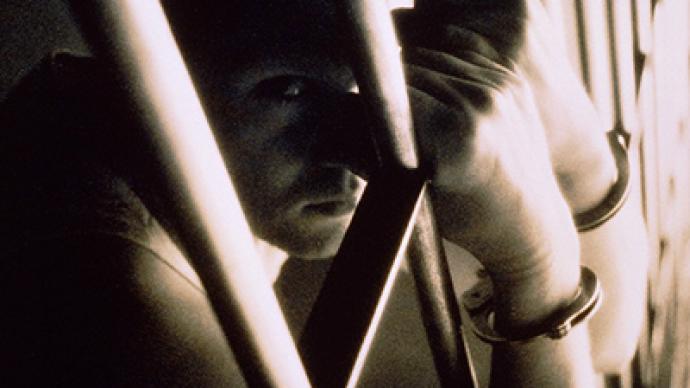 Imagine this scenario: You walk into the neighborhood sex shop, throw down 40 bucks on an inflatable, vinyl sex doll and then face felony charges as a terrorist. Unbelievable? Sure is.
Except it is happening in the US right now and it's happening to an 18-year-old boy.Recent high school grad Tyell Morton is facing a lengthy prison term for a prank gone awry. The incident, which occurred at Rushville Consolidated High School in Indiana on May 31, yielded authorities to file an institutional criminal mischief charge, a felony, which could carry two-to-eight years in prison.That's after the courts lessened the count from the initial charge of "terroristic mischief."Tyell's family was and still is outraged."They labeled my son as a terrorist," says Walter Nelson to the Miami Herald. "They referenced Columbine with my son. Columbine, those guys had intent to harm. My son did not have any intent to harm anybody at all. That's what angers me.""I know there has been plenty of pranks done at that school," Morton's mother tells the Associated Press. "I went to that school. When I heard what they was charging him for, my heart just dropped."The prank wasn't very elaborate. Tyell purchased a sex doll, placed it in the school's bathroom and then bolted.Now some are left wondering if this is a question not of mischievous and prank pulling, but rather of race.Journalist Leonard Pitts, Jr. points out that in Fort Lauderdale, Florida last month, a wealthy white playboy named Ryan LeVin was sentenced to only two years of house arrest after he plowed his Porsche into two British tourists, killing them. Levin had previously been handed down a cocaine conviction, among other charges, and was on probation at the time. He will serve his two years from either of his parent's beachside condos.Tyell killed no one. The only thing he did — and really, the only thing he did — was place a sex doll in his high school lavatory and run out the door. Maybe Morton isn't a rich white playboy. Maybe, in fact, he is an average high school student in the Midwest and his parents had to wait nearly a week in order to raise the bond money necessary to get him out of jail. Maybe, just maybe, an eight year sentence for a teenager that made a harmless mistake is just a bit too much.A janitor at Morton's school spotted him running away from the building, so, acting on suspicion, he investigated surveillance camera footage. That led school officials to see a hooded man entering the building with a package and leaving five minutes later without it. Explosives? Maybe. Sex paraphernalia? Absolutely. "We have reviewed this situation numerous times," Rush County Schools Superintendent John E. Williams says to The Indianapolis Star. "When you have an unknown intruder in the building, delivering an unknown package, we come up with the same conclusion. … We cannot be too cautious, in this day and age."Rushville is a small, predominately white town. Morton's father notes that most of the people that helped post bond for Tyell were white. Morton's parents say that they don't want the incident do be clouded with arguments of the race card, however. "My son's life is more important than some racial issue that people can't seem to get over. That's what I want to focus on, man," his father tells the Miami Herald. The Herald asks him, however, if he thinks things would have ended up differently if Tyell wasn't from a struggling, black household."That question has been answered way before this happened to my son. Do I need to even answer that? Come on," he says.Tyell did receive his diploma in time from Rushville, but family members say he was barred from attending the graduation ceremony. In the meantime he aspires to go to college or maybe become a video game tester. "He's a teenager," says his father. "He's a young man trying to find his way in life."Until his court case comes and goes, however, it might be difficult for him to do that search. "It's stressful for Tyell," mom Cammie Morton tells the AP. "He doesn't know where his life is going to end up. He has been looking — I'll just put it this way: He's scared."
You can share this story on social media: