JFK's $100 mln security system breached by a jet-skier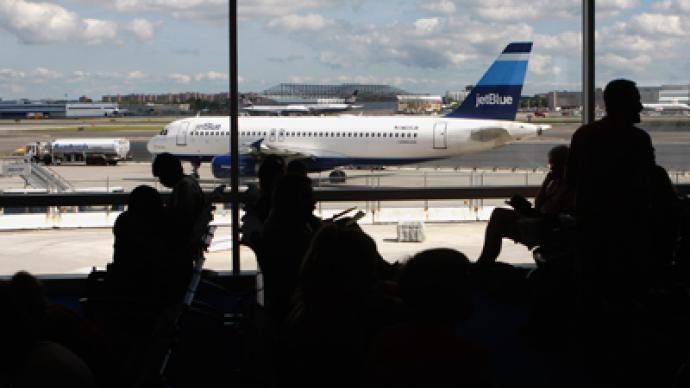 After sinking his jet ski, a 31-year-old man was forced to swim to the only lights he saw on shore. Wearing a bright yellow life jacket, the man penetrated John F. Kennedy airport, bypassing the $100 million security system.
The young man's journey began after a Friday night of partying and drinking with friends, which led to a race across Jamaica Bay on jet skis.But after Daniel Casillo's friends sped away and his jet ski began to sink, he had no choice but to swim three miles to the lit-up JFK airport runway.Soaking wet, Casillo made it to shore, bypassing a sophisticated system of motion sensors and closed-circuit cameras and climbing an eight-foot barbed-wire perimeter fence meant to protect against terrorists and other national security threats.Still wearing his life jacket, the young man then walked into a terminal and approached a Delta Airlines worker, who was startled and called the authorities.But rather than help the stranded jet skier, police immediately arrested the young man and charged him with criminal trespass."I think he should be given dinner and a bottle of champagne for showing us our faults," said NYPD veteran and former MTA deputy security director for counterterrorism, Nicholas Casale, in an interview with ABC News."It's outrageous," Casale added. "Why in 2012 do we not have a security system throughout our airports?"In early 2011, New York's Port Authority was criticized for failing to maintain its perimeter fence adjacent to JFK Airport. A snow storm took down part of the fence, leaving part of a runway exposed and vulnerable to terrorists and trespassers."Security was never compromised and the area was secure and is secure," a Port Authority spokesman told the New York Post.But a year and a half later, the airport is once again under scrutiny. The $100 million security system could not even keep out a wet and exhausted jet skier with its protective fence. The Port Authority has increased its police presence  "with round the clock patrols of the facility's perimeter and increased patrols by boat of the surrounding waterway," a Port Authority official told ABC.But rather than use Castillo's "break-in" to improve its security equipment, Castillo faces an unfortunate criminal trespassing charge and Port Authority faces embarrassment for its lack of security.
You can share this story on social media: