Hit-and-run secretary takes leave from White House role
Published time: 12 Jun, 2012 16:40
Edited time: 12 Jun, 2012 20:40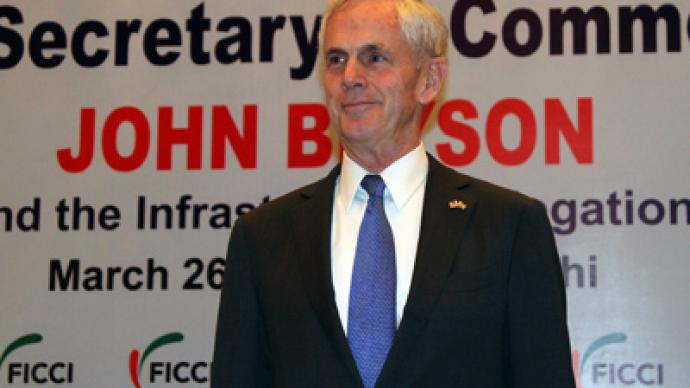 Commerce Secretary John Bryson is taking a medical leave of absence from his White House position following a weekend incident that had the Obama administration appointee cited for felony hit-and-run charges.
White House Press Secretary Jay Carney told reporters on Monday evening that Mr. Bryson, 68, will be out of the office as he seeks further treatment after allegedly suffering a seizure in Southern California on Saturday afternoon. Eyewitnesses say Secretary Bryson had rear-ended a car in San Gabriel, CA and then, after speaking with the passengers, struck it again while attempting to leave the scene. Moments later down the road, Mr. Bryson reportedly struck a second vehicle in his third collision of the afternoon.
During a press briefing on early Monday, Carney did not comment on Mr. Bryson's incident but told reporters later in the day that the commerce secretary had "informed the White House tonight that he will be taking a medical leave of absence from his position as Commerce Secretary as he undergoes tests and evaluations."
"I notified President Obama this evening that effective immediately I am taking a medical leave of absence so that I can focus all of my attention on resolving the health issues that arose over the weekend," Bryson wrote in a Monday night statement released by the Commerce Department.
"The President's thoughts are with Secretary Bryson and his family during this time," added Carney that evening. "Secretary Bryson assured the White House that the Commerce Department staff will not miss a beat in their work helping America's businesses compete."
President Obama was reportedly unaware of the episode until two days later on Monday. Speaking with KTIV television in Sioux Falls, Iowa that day, Obama told reporters, "My hope is that he's doing alright. We're still trying to find out, it sounds like it was health-related in some way."
"[W]e're going to make sure, obviously, that he gets the best care and, you know,we'll be able to make a determination from there," the president remarked on the future of Sec. Bryson's role in the White House.
Following the third collision, Bryson was treated for a seizure and flew from Southern California to Washington, DC. He was cited for felony hit-and-run but was not arrested because he was admitted to a facility for treatment.