Five killed in Seattle shooting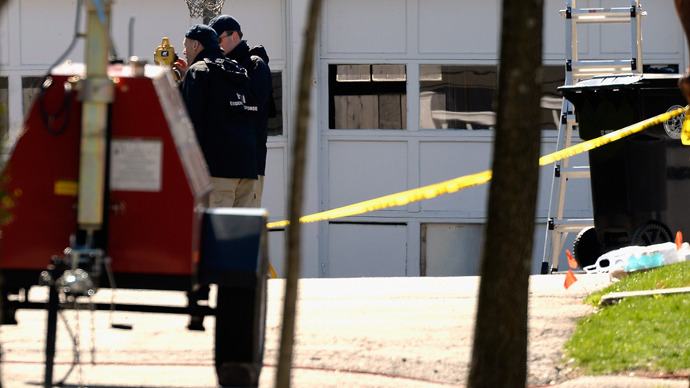 Five people were shot to death in a storm of gunfire at an apartment complex south of Seattle, including the suspected shooter. Two others were found wounded in the parking lot of the complex.
Police responded to an emergency call from the apartment building, which is located 20 miles south of Seattle, around 9:30 p.m. Sunday.  After reaching the complex, officers found two wounded men in the parking lot, one of whom was armed.
"When officers arrived there were still shots being fired," police spokeswoman Cathy Schrock said in a statement published by AP.
"As officers assessed the scene, two males could be seen in the parking lot injured. An officer attempted to rescue the man, and as the (police officer) approached, one of the males on the ground reached for a weapon," she added.
After the injured man reached for his gun, all eight police officers opened fire on him. The armed man, who police believe is the suspected shooter, subsequently died, but it is unclear whether that was a result of police gunfire or previous injuries.
While searching the scene, police found a third wounded man in the parking lot and two dead bodies in the complex. One man was found dead in an apartment, while a woman's body was found in another unit. Police speculate that the woman may have died from stray gunfire.
The three injured men in the parking lot, one of whom was the suspected shooter, all died from their injuries.
Schrock said that it appears there was a gun battle among the four men who were killed, and that the woman was accidentally hit by a stray bullet. Officers at the Federal Way Police Department have not yet determined a motive behind the shooting, and are currently questioning neighbors to gather information.
"We're going to continue to go door to door in hopes that we can find some additional witnesses, and hopefully we won't be finding any more victims," Schrock said. "We still don't have any idea what started this disturbance."
Authorities believe there was no other shooter involved and that there is no further threat to the public.
"At this time, we are not looking for any additional suspects," Schrock said.
A witness described the scene to ABC News, recounting how he heard gunfire and saw police officers quickly flooding the scene. 
"There were a couple of shots, and then cops just came storming in with cars," the young man said. "It was like three at first, and then one after another… cops were just rolling in. And then a guy came in with an automatic. We heard shots, and the guy told us to leave. But we came back and there were more cop cars pouring in."
The eight police officers that opened fire on the suspected shooter have been placed on administrative leave pending the outcome of the investigation – a standard procedure practiced by the police department.
You can share this story on social media: