Boston Marathon bombing suspect Dzhokhar Tsarnaev arrested
Boston Marathon bombing suspect Dzhokhar Tsarnaev has been arrested following an extensive manhunt that ended in the Boston suburb of Watertown. Law enforcement units from around the country were involved in the search.
The crowd around the standoff scene in Watertown burst into cheers as it became clear that Tsarnaev had been taken into custody following reports that a negotiator was on site.
Suspect in custody. Officers sweeping the area. Stand by for further info.

— Boston Police Dept. (@Boston_Police) April 20, 2013

He will be transported to Mount Auburn Hospital, the same facility where a police officer shot in a standoff with the Tsarnaevs is recovering, the Boston Globe reports. Tsarnaev is listed in "serious, if not critical condition" after suffering gunshot wounds to the neck and leg, according to CBS News.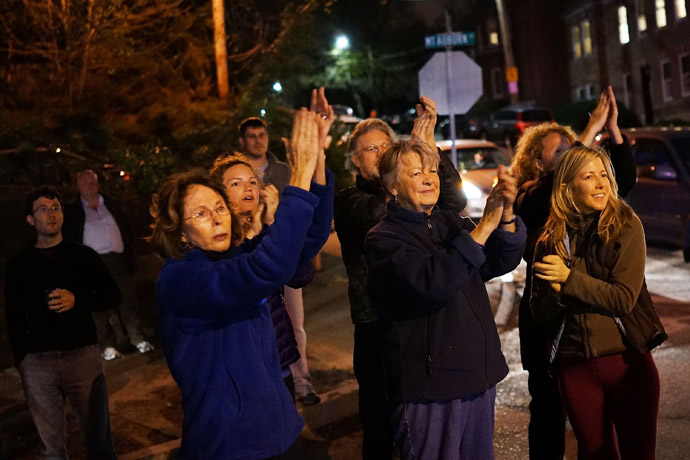 After being captured Dzhokhar Tsarnaev  was not read his Miranda rights, which include the right to remain silent and the right to counsel before giving  information to officials that can be used against the arrested suspect. The authorities claim it is a  public safety exception that expires in 48 hours after the arrest. 
The American Civil Liberties Union expressed concern over this issue. 
"The public safety exception should be read narrowly, it applies only when there is a continued threat to public safety, and is not an open-ended exception to the Miranda rule," said  the ACLU statement as cited by MSNBC news.

The Department of Justice has listed Tsarnaev as a "high value detainee" on their website.

The Federal public defender's office in Boston is seeking to represent Tsarnaev, according to Reuters.
@jfahmy @reformedbroker Done twitter.com/BMTrader/statu…

— Bill M (@BMTrader) April 20, 2013
Tsarnaev's father, Anzor, is confirmed to be en route to the United States, according to ABC News. In an interview with the Russian press prior to his son's arrest, Anzor Tsarnaev was adamant about both his sons' innocence.
"Somebody might have set them up. I don't know who and, because of their cowardice, they killed the boy," he said.

Zubeidat Tsarnaeva, the suspects' mother also told RT that her son was being manipulated by the FBI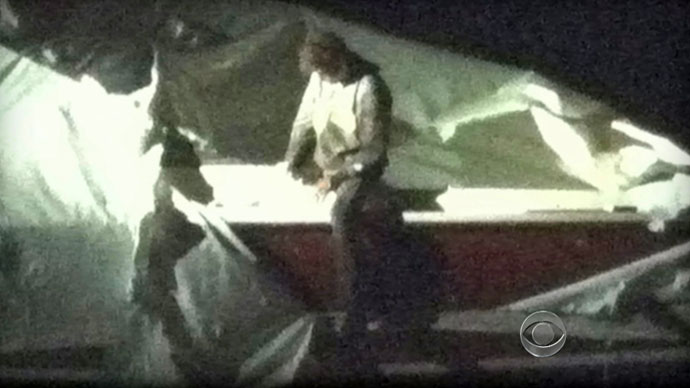 "How could this happen?…They were controlling every step of him, and they are telling today that this is a terrorist attack," she told RT. She stressed that both her sons were innocent and had been framed.
However, Zaur Tsarnaev, who identified himself as a 26-year-old cousin from Makhachkala, Russia, reportedly said that he was suspicious about the older brother. "I used to warn Dzhokhar that Tamerlan was up to no good," he said as quoted by the Boston Globe adding "[Tamerlan] was always getting in trouble. He was never happy, never cheering, never smiling. He used to strike his girlfriend. . . . He was not a nice man."

In contrast Dzhokhar's teacher said that he was friendly and open. "If someone were to ask me what this kid is like, I would say that he had a heart of gold," said Larry Aaronson who taught Dzhokhar at the public Cambridge Rindge & Latin School. "He was as gracious as possible … This is all surreal to me."

While Russian President Vladimir Putin discussed the Boston attacks with Barack Obama in a telephone call on Friday afternoon, expressing his condolences for the loss of life.
"President Obama thanked President Putin for those sentiments, and praised the close cooperation that the United States has received from Russia on counter-terrorism, including in the wake of the Boston attack," the White House said in a statement.
Both leaders resolved to continue their cooperation with counter-terrorism and security issues, said the White House.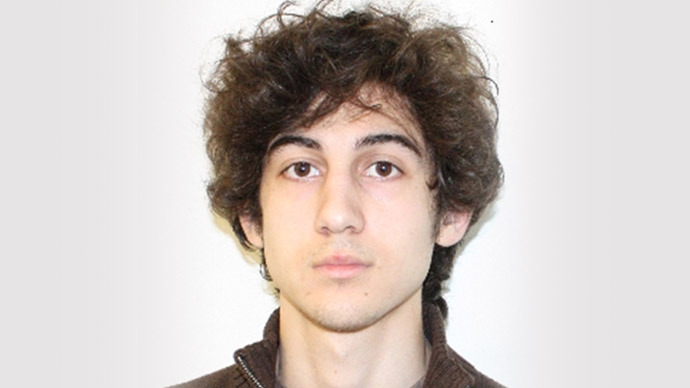 Tsarnaev, 19, and his brother, 26-year-old Tamerlan Tsarnaev, are suspected of detonating two improvised explosives during the Boston Marathon on Monday, after which a manhunt began that led to a shootout with law enforcement agents, a stolen car and finally Dzhokhar's hideout in a boat parked on a lawn in suburban Watertown.
The older Tsarnaev brother was pronounced dead by law enforcement early Friday, shortly after both men were named as suspects in Monday's blast. Police believe the brothers reportedly shot and killed a police officer at Massachusetts Institute of Technology (MIT), later identified as 26-year-old Sean Collier.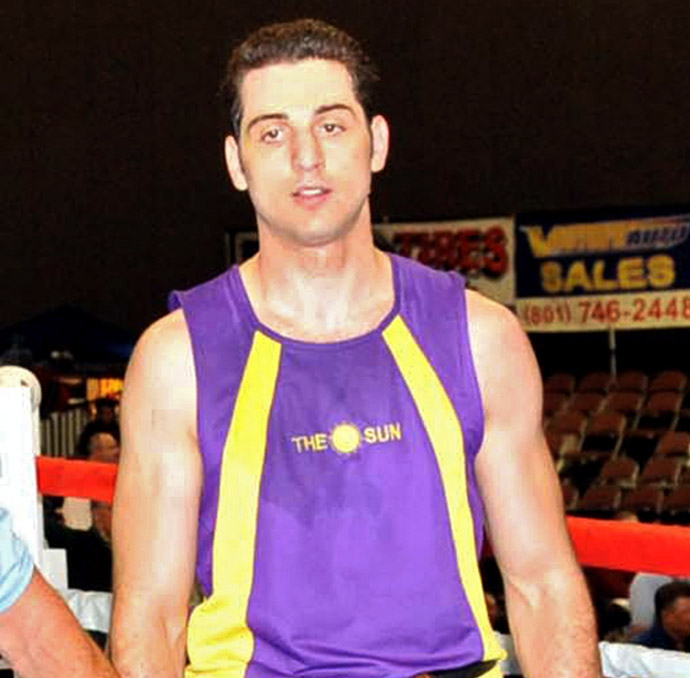 Panic soon erupted within the MIT community as dozens of police cruisers swarmed the campus to investigate the shooting. Moments later, police said that two suspects in the shooting had carjacked an SUV and were spotted in the neighboring district of Watertown, MA.
Local and national law enforcement agencies in the United States — including the Federal Bureau of Investigation and the Bureau of Alcohol, Tobacco, Firearms and Explosives — descended on New England this week to help the Boston Police Department in their probe of the marathon tragedy, which US President Barack Obama declared in the aftermath as an act of terrorism. But despite receiving assistance from multiple branches of the Justice Department and agencies as far away as the NYPD and Israeli police, the FBI did not go public with any leads until Thursday afternoon.
At around 5pm Thursday (21:00 GMT), FBI Special Agent Richard DesLauriers presented the media with surveillance camera footage of two men — originally identified as only "Suspect One" and "Suspect Two" — and said they were believed responsible for Monday's blast, and should be considered armed and extremely dangerous.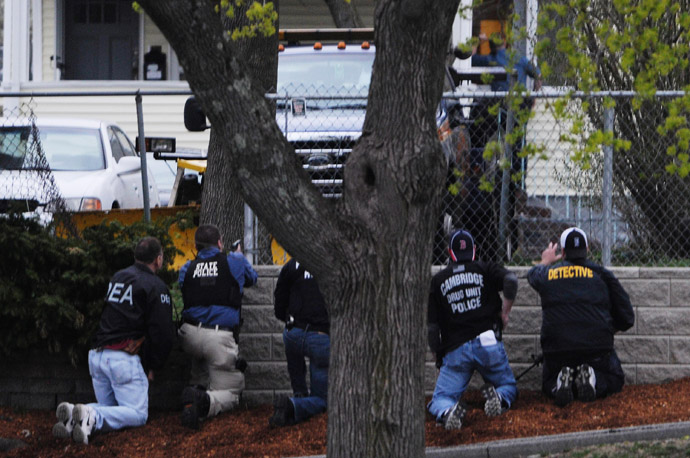 As afternoon turned to evening, new photos taken by marathon witnesses quickly circulated of the suspects, and by sundown authorities connected the Tsarnaev brothers to a series of criminal activities committed in the Boston area, including the terrorist attack.
Across the world, eyes were focused on the greater Boston region into Friday morning as local news stations followed-up feverishly on what became an increasingly chaotic manhunt for both men. Police responded by shutting down much of the vicinity, ordering residents to stay inside with locked doors and urged to avoid interacting with anyone other than law enforcement. Transportation company Amtrak suspended rail service going in and out of both Boston and nearby Providence, Rhode Island, and local public services including rail, bus and taxi all stopped servicing the area.
In all, roughly 1 million residents in New England were told to stay indoors until the lockdown was lifted on Friday evening.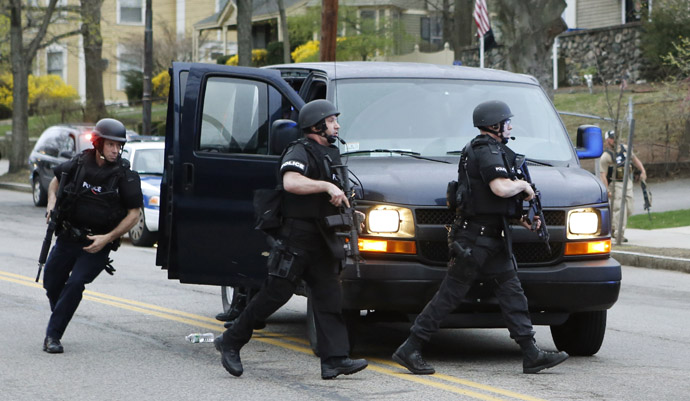 Authorities said that the brothers fired dozens of rounds at police, critically injuring another officer, during which Tamerlan Tsarnaev was injured. He was reportedly apprehended by police and later pronounced dead. According to some sources, Dzhokhar Tsarnaev fled the scene in a vehicle, driving over his brother's body in the process.
As the police escalated their manhunt for the surviving Tsarnaev, authorities warned of multiple explosives on the scene across Watertown and called in a bomb squad to assist in the investigation.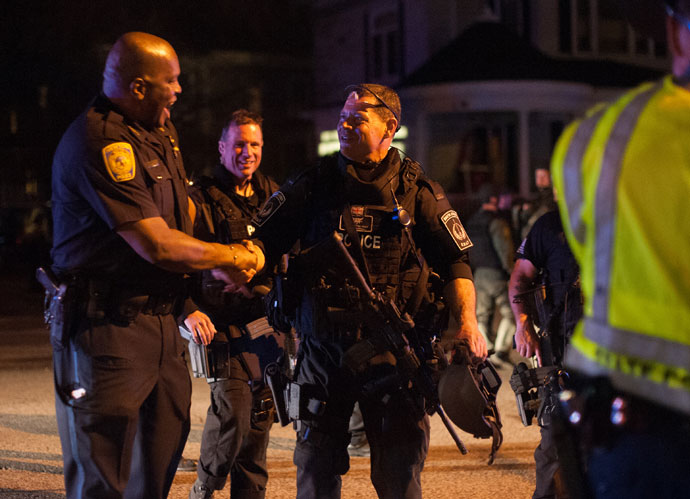 You can share this story on social media: