Search or destroy: Google bans Belgian papers from web results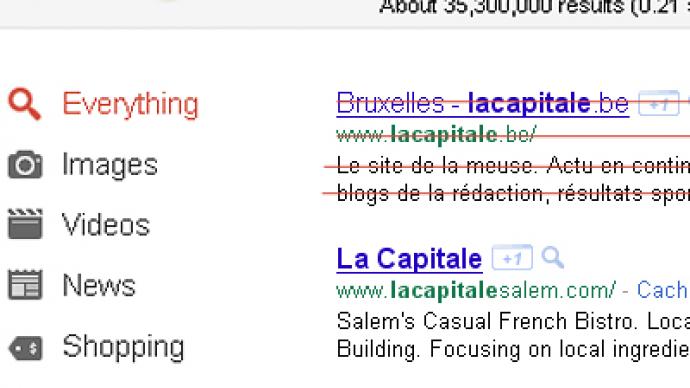 Look out honey, 'cause I'm using technology.
Those are the words that punk pioneer Iggy Pop barked out in his 1973 anthem "Search and Destroy," and now Google is taking a cue from the rock and roll legend as they turn up the heat on a group of Belgian newspaper that filed a lawsuit against the search engine superstars recently and won.Newspapers under the umbrella of Copiepresse, a Belgian copyright management company, have been black-listed from Google search results after they fired back at the Web moguls for posting their content without offering any compensation. A court ruling said that Google would have to pay over $35,000 US for each infringement, so Google retaliated with their own little derision of destruction: they've barred all affiliated news outlets from appearing in search results unless they want to forfeit the legal ruling. Now La Capitale, LaLibre and other associated news outlets are seeing a tremendous drop in traffic, and as Iggy puts it, Google "Ain't got time to make no apology."The lawsuit against Google was opened up in 2006 and attested that the company had no legal right to post Copiepresse articles without payment or permission. A Belgian appeals court agreed and upheld their decision this year, and now Le Capitale says that Google is "boycotting" the paper in retaliation over a copyright infringement lawsuit.Google spokesman William Echikson tells The Associated Press that the decision applies to both search results and the Google News feed, and the barring is necessary, lest Copiepresse wants to reconsider the ruling."We regret having to do so," says Echikson. "We would be happy to re-include Copiepresse if they would indicate their desire to appear in Google Search and waive the potential penalties."In other words, Google wants to use their content for free, and if Copepresse says no, they are forced to say "sayonara" to search results.The Belgian outlet, understandably, says that the interpretation of the legal ruling is just Google's way of getting them back."It is necessary to distinguish the Google search engine from the Google news service," reads a Friday article on the website of La Libre. "The news editors do not oppose having their content referenced by the Google search engine, they refuse on the other hand for their informational content to be included in Google News."Since the ban went into effect, Copepresse site search traffic has dropped exponentially. Alexa reports that traffic on LaLibre plunged from 12.7 percent last month to nearly 3 percent now, showing a drop of nearly a tenth of their readers all because of the ban. Sudpresse, another Belgian paper, has fallen victim to a similar trend as of late, and Copepresse papers expect things to only worsen as the ban continues."And honey, I'm the world's forgotten boy," goes the tune. And unless they want to fork over their features for free, LaLibre, La Capitale and the rest of the papers will surely be singing an all too similar song very soon.
You can share this story on social media: