Saudi princess charged in California with human trafficking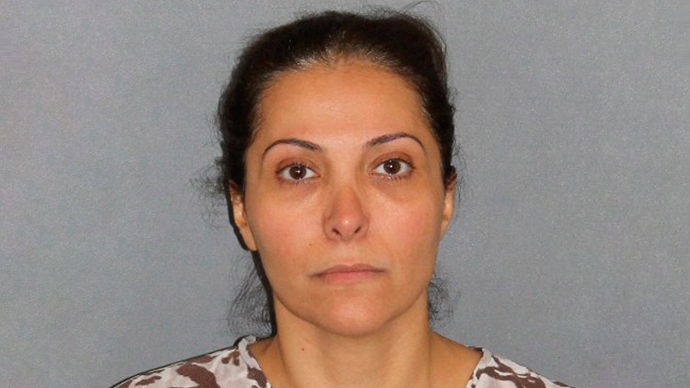 A Saudi Arabian princess has been arrested and charged for trafficking up to five women in Santa Ana, Calif. A Kenyan worker told authorities that she was held captive for about a year and forced to work long hours for little pay.
Saudi princess Meshael Alayban, one of the six wives of Prince Abdulrahman bin Nasser bin Abdulaziz al Saud, is facing up to 12 years in prison if she is convicted of human trafficking. Police arrested the 42-year-old after a domestic worker from Kenya reported her to police.
The 30-year-old Kenyan woman on Wednesday fled the apartment she was working in as a domestic servant, flagged down a bus, and sought help from the passengers. The woman told police that she was hired in Kenya last year, where she signed a two-year contract to work 40 hours a week for an employment agency for $1,600 a month. She was then shipped to Saudi Arabia, where her passport was taken from her and she was forced to work twice as many hours as she initially agreed upon. She received less than half the money she was promised.
Alayban's family came to the US with the five victims in May and forced the women into domestic labor for little pay. Four of the women are from the Philippines. The Kenyan woman told police she worked 16-hour days, 7 days a week, for only $220 a month. She was forced to cook, clean, wash dishes, do laundry and iron clothes for at least eight people in four different apartments in Irvine.
"This is not a contract dispute," Orange County District Attorney Tony Rackauckas told the court during a bail hearing on Wednesday. "This is holding someone captive against their will."
Once police arrived at the apartment where the four other women were staying, the victims all left the home voluntarily and told authorities that they wanted to be free, Irvine police chief David Maggard Jr. told the AP.
"The law of our nation and California does not tolerate people who deprive or violate the liberty of another and obtain forced labor or services," Rackauckas said.
Attorney Paul S. Meyer, who is representing Alayban, said that the victims suffered no physical abuse and that there is no evidence of any physical restraint.
"This is a domestic work hours dispute," he told the AP.
"We intend to fully investigate this matter, and expect that the truth will resolve it," he told the LA Times.
The Saudi princess has been charged with one felony count of human trafficking and is being held on $5 million bail. A judge has ordered her to surrender her passport and stay within Orange County if she is released. The Saudi consulate has offered to put up $1 million bail for Alayban.
The incident is the first forced labor human trafficking case to be prosecuted in Orange County since Proposition 35, the "Californians Against Sexual Exploitation Act", was approved last November. The proposition increased prison terms for human traffickers. If convicted, Alayban faces a maximum sentence of 12 years.