Toxic trouble: San Onofre nuke plant announces imminent reopening
Published time: 31 Jul, 2012 16:06
Edited time: 31 Jul, 2012 20:06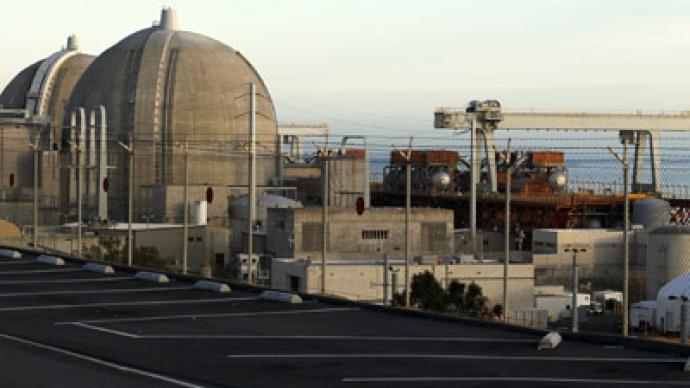 Owners of the San Onofre nuclear plant, shuttered six months ago due to a possible radioactive leak, will reopen the facility by the end of 2012. This news comes despite recent reports that conditions at the plant are worse than initially believed.
The two reactors of the California-based San Onofre – Units 2 and 3 – are planned to be restarted on November 18 and December 31, respectively, Southern California Edison announced on Monday. These dates were submitted to state power managers for planning and can later be changed, the announcement added.
The company, however, has yet to submit a request to the Nuclear Regulatory Commission (NRC) to restart both reactors.
There are a series of conditions Edison must first meet in order for the NRC to authorize the reactors for reactivation. On Tuesday, company officials are expected to release a report crucial to NRC approval, which covering three months of financial and technical data on San Onofre.
The reopening announcement comes just two weeks after the NRC published research revealing that the actual conditions at the plant are much worse than had been previously disclosed.
These latest findings raise serious questions as to whether it is safe to restart the units, said Daniel Hirsch, a nuclear expert at the University of California, Santa Cruz.
Local anti-nuclear activists have also lashed out at the plant's operator, saying the Edison Company misled the NRC about modifications made at the plant.
The generators cannot be repaired in less than 18 months, Arnie Gundersen, a consultant for the environmental group Friends of the Earth and a former nuclear industry executive, told the AP.
In January, two of the plant's three reactors were shut down after it was revealed that premature wear of tubes in the steam generators could lead to radioactive leaks.
Experts say gradual wear is common in such tubing, but the rate of erosion at San Onofre is startling, considering that the equipment is relatively new. The generators were recently replaced, and began operating in April 2010 and February 2011.