San Francisco area hit with second public transportation strike in four months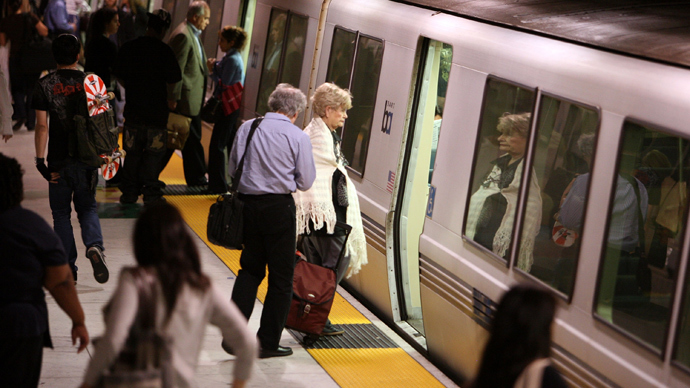 More than 2,000 commuter rail workers in the San Francisco Bay Area are on strike after contract negotiations collapsed, pushing the area's morning commute into disarray.
The stalemate between Bay Area Rapid Transit (BART) workers and management has been going on for six months now. In July, BART employees staged a four-day strike over stalled negotiations, ending only after Gov. Jerry Brown intervened to implement a 60-day cooling off period that ended Sunday, October 13.
According to multiple reports, the two sides were close to an agreement on numerous issues, including pay and health care and pension contributions. When union representatives pushed management to take their disagreement over workplace rules to an arbitrator, however, managers balked and the talks broke down.
BART employees officially went on strike early Friday morning.
"It's going to be catastrophic," said Rufus Jeffris, spokesman for a regional business organization called the Bay Area Council, regarding the strike.
The BART system typically services more than 400,000 people a day, and operations will essentially come to a halt during the strike. Management plans to run free charter buses and increase ferry services, but these maneuvers are only expected to move about 6,000 people a day. If the last stoppage is any indication, many will opt to drive, making a tough commute in the Bay area even more congested.
In July, the four-day work strike caused transportation officials to venture that an additional 60,000 cars hit the road, causing backup for miles. Some employees, unable to find their way to work, worked from home instead. It was the first time that BART services had been shut down in 16 years.
Federal mediator George Cohen, who helped the two sides resolve a number of issues, added that mediation will end now that the strike has commenced.
"Regrettably, we were not able to bring home the result we all wanted to achieve: a voluntary collective bargaining agreement," said Cohen to the Los Angeles Times.
The workers have argued that the high cost of living in San Francisco entitles its members to higher pay. Unions peg the average BART employee salary to be around $64,000 a year, plus benefits. Management says it is closer to $79,000. According to Reuters, the last offer that was made public included a 12 percent raise to union workers over four years to help offset the fact that the BART management asked employees to pay into their health benefits and pension plans.
According to Reuters, however, Thursday's negotiations broke down over workplace rules, not compensation. Unions are fighting to retain the employees' right to blow the whistle on unfair management practices, as well as the right to work "light duty" after suffering an injury.
BART management, though, pushed for same-day schedule changes, elimination of previous guidelines concerning injured workers, and the removal of small pay raises for custodial staff.
"We could lose," said Service Employees International Union Local President Roxanne Sanches on the union's request to seek an arbitrator, "but we'd rather take the risk than shut down the Bay Area. The employer said, 'No.'"
Management, meanwhile, said it has given workers a fair offer, and that unions should put it up for a vote among their members.
"It is unfortunate our union leaders have chosen to further disrupt the lives of Bay Area commuters while hurting the economy with a shortsighted strike when there are other options on the table," said BART spokesman Rick Rice.