Union to halt picketing after San Fran rail workers killed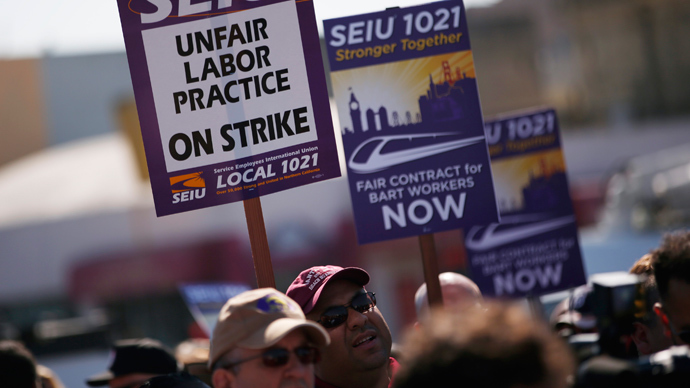 One of the primary unions on strike against the San Francisco commuter rail system will suspend picketing for a day after workers were killed by a commuter train returning from routine maintenance.
Amalgamated Transit Union (ATU) Local 1555, one of two main unions leading the strike by over 2,000 Bay Area Rapid Transit (BART) workers, announced that its 900 workers would not be out on strike out of respect for the victims and their families.
The strike against the Bay Area Rapid Transit agency, which carries about 400,000 travelers a day began on Friday after contract negotiations over pay and workplace rules faltered.
Earlier on Saturday, ATU local president Antonette Bryant said she would present a final contract offer from BART before members for a vote, although it is expected to be turned down.
"It's our hope we can get it to members this week," Bryant told The Associated Press in a telephone interview. She said she expects the vote to be "a resounding no."
Bryant later issued a statement, saying Saturday's accident was a "terrible human tragedy."
The two workers killed were a BART employee and a contractor, agency officials said.
They were responding to a reported dip in the track and both had extensive experience.
"They understand the railroad, they understand how to work around moving trains," BART's Assistant General Manager Paul Oversier said at a news conference. "They were doing today what they have done 100 if not 1000 other times in their careers."
The accident occurred in the East Bay city of Walnut Creek shortly before 2 pm. The four-car train was being run in automatic mode under computer control at the time of the accident.
There were several people on the train, Oversier said, although he would not identify who was the operator at the time of the accident. In an earlier statement, BART said only that the person was an experienced operator.
The deaths were the first in five years for a BART employee.
"This is a tragic day in BART's history," the system's general manager, Grace Crunican, said. "The entire BART family is grieving."
On Saturday night, picketers held candlelight vigils for the deceased men, said Cecille Isidro, spokeswoman for the Service Employees International Union Local 1021 – the larger of the primary main unions on strike. Union members would continue to hold vigils as they picketed on Sunday, she added.
Meanwhile, the National Transportation Safety Board will take over the investigation into the deaths, BART General Manager Grace Crunican said in a statement.