Lock your doors and load your guns: San Bernardino warned of uncontrollable crime as police squad shrinks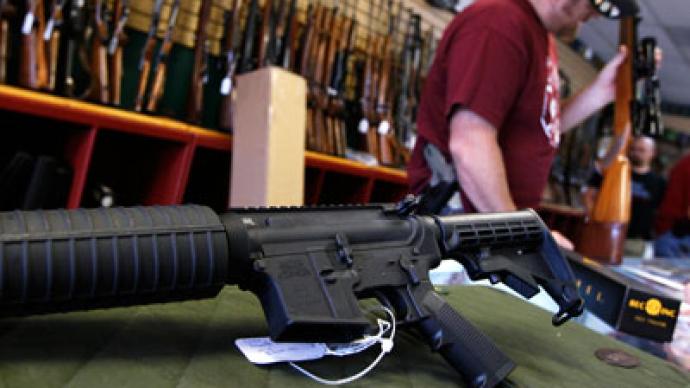 A San Bernardino city attorney told residents this week to gather arms and prepare to defend themselves since the bankrupt town can no longer afford the law enforcement it needs.
During a city council meeting Wednesday, City Attorney Jim Penman urged residents of the bankrupt Californian city to "lock their doors and load their guns" to protect themselves. City officials prepared a budget plan earlier this month that would attempt to tackle the $45.8 million deficit partially by cutting benefits for city workers like firefighters and police officers, as well as eliminating 80 cops from the force altogether."Let's be honest, we don't have enough police officers. We have too many criminals living in this city. We have had 45 murders this year… that's far too high for a city of this size," Penman said.The cuts will leave the city with just over 200 sworn officers – a small number in a city of 213,012 that is plagued with crime. The city's police department has also cut down on the number of people answering its emergency phone lines: problematic in a city that was ranked America's sixteenth most dangerous in 2004. San Bernardino has also seen a 50 percent increase in murders this year compared to 2011, and this week's council meeting was actually called in response to the brutal murder of a 76-year-old woman in a neighborhood that is usually quiet.During the meeting, Police Chief Robert Handy also emphasized the need to reduce the city's drug problems and theft. But in a region where prisons are already overcrowded and the streets are overwhelmed with gang violence, San Bernardino faces heavy obstacles."We are trying to refocus and pay a little more attention to those (types of crimes) because honestly, those are the ones we get complaints on," Handy said, reports the local Sun newspaper. "We may not come out immediately, but many of those transients have been arrested more than 50 times. There's no room for them in jail."With an inadequate police force, no room in prison, and no money to gather resources, Penman believes city residents must fend for themselves."People have asked me what should we do? Go home, lock your doors, and load your gun," he told the crowd of nearly 150 people at the city council meeting. San Bernardino filed for bankruptcy on Aug. 1 after acquiring more than $1 billion in debt. The city was the third in California to go bankrupt in just over a month. In the mid-2000's, San Bernardino took out $190 million in bonds and loans to finance city construction, but budget problems arose after the 2007 housing crisis. Before it declared bankruptcy, 75 percent of San Bernardino's budget had gone to public safety agencies to tackle crime.Penman has come under scrutiny for encouraging residents to stock up on firearms, but City Councilwoman Wendy McCommack further explained the statement to CBS News."We need to take our streets back, we need to take our neighborhoods back and we need to protect our homes, and that's what I think Jim was trying to say," she said.