Hollywood makes the "great" Obama movie but leaves out Afghanistan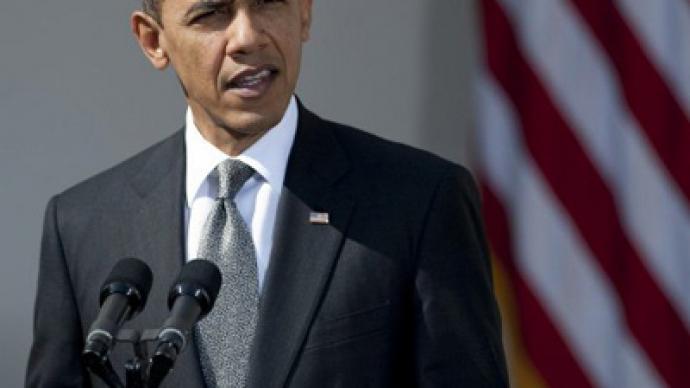 An award-winning Hollywood director has offered his talents to US President Barack Obama, but the glitzy campaign clip the team produced focuses solely on the fairy tale facets of the administration — and none of its real life tragedies.
Oscar-winner Davis Guggenheim touches on Obama's term this far by bringing up the best of the last three years. Bringing down Osama bin-Laden, accelerating an end to the war in Iraq and bailing out the auto industry are all brought to the viewers' attention in a video that tries to tackle all of Obama's accomplishments in the span of only a few minutes. Discussions don't extend much deeper than there, however, with the director making an editorial decision to omit any notice of a few things that perhaps the White House would prefer Americans forgot.
Among the items that were left on the cutting room floor include Afghanistan, where Obama inherited a lengthy war begun by the George W Bush administration but, more than a decade later, is still just developing.
The Obama White House intends on ending its offensive operations in Afghanistan by 2014, but in the first three years of his presidency, Barack Obama has been overseeing America while its military as found itself in mishap after misfortune in terms of its war overseas. The clip was actually released only days after it was revealed that an American soldier opened fired in the homes of Afghan civilians, massacring more than a dozen of them in what is only the latest incident that has America rethinking its exit strategy from Afghanistan.
The Obama administration has authorized billions to go towards its war in Afghanistan and President Obama himself signed off on a surge of troops early in office despite advocating for an end to wars. With the only certainty in terms of the war in Afghanistan being that it is expects to extend into at least year, it stands to be a scar that starts with the last administration but encompasses the entirety of Obama's first term. But despite waking up every morning knowing that the country he commands is embroiled in a fiery war, the word "Afghanistan" is not once uttered during the promotional clip.
Instead, the audience is offered a reminder of the May 2011 raid that killed Osama bin Laden and how the GOP establishment offers alternatives that, as the president seems to put it, would put America even further off track. Republican Party frontrunner Mitt Romney is the only right-wing adversary called out by name in the clip — he is introduced as the GOP candidate that had insisted that the auto industry left to go bankrupt.
In response to a promotional video that they say tells only one side of the story, the Republican National Committee has drawn up a mock movie poster for the Guggenheim movie, which uses the tagline: "After four years, the only bad thing about their time in office was that it was just too good."
Explaining his work on the film to CNN, Guggenheim actually said it was impossible to make room for any alleged events unpopular with the administration, saying the negative aspect of making the movie was that "there were too many accomplishments."
The GOP, on the other hand, begs to differ. In their movie poster mock up, they note that the cast of characters includes Obama and narrator Tom Hanks, but fails to list the real stars of the story that didn't make the cut: "13 million unemployed Americans, three record deficits and a coherent energy policy."