'Dishwashgate'? Ryan falls from frying pan to fire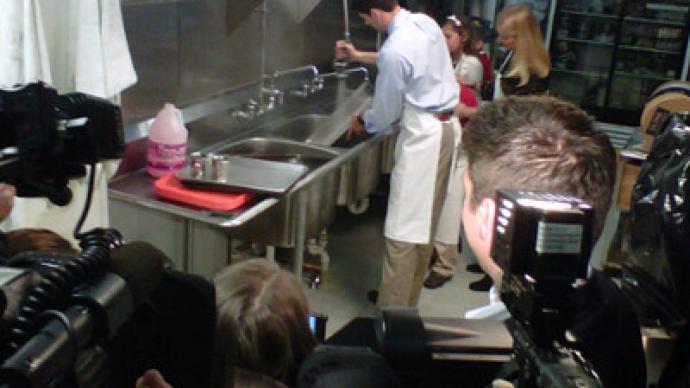 Republican VP nominee Paul Ryan's gaffe in an Ohio soup-kitchen has handed the democrats a campaign gift and given the media a new -gate. Dishwatergate.
The 'sink-tank' PR stunt is backfiring allover Ryan after it emerged that his team ram-rodded their way in to the charity kitchen without permission and then 'faked' photos of Ryan 'washing dishes' for the homeless.Ryan was in Ohio, a battleground state slipping away from the GOP lately. After a town hall meeting at Youngstown State University his motorcade diverted for a surprise visit to a charity soup kitchen.Once inside the VP nominee and family donned aprons and spent some time rinsing pots & pans in front of kitchen volunteers and pool journalists. Noticeably absent however, were the kitchen patrons, the local homeless had all left long before team Ryan sniffed a PR scoop.Too late to 'slop out', the eager Ryan offered to wash dishes though, according to the Washington Post, they "did not appear to be dirty".Charity head Brian J. Antal, who was not told of team Ryan's plans to feed the hungry, lifted the lid on the saucepan simulacra. They "ramrodded their way" into the kitchen. "The photo-op they did wasn't even accurate. He did nothing. He just came in here to get his picture taken at the dining hall," he complained.The PR splash'n'dash was allegedly approved with a kitchen volunteer, though not with Antal, who doesn't "fault his people for letting Ryan in, but the campaign didn't go through the proper channels.""Had they asked for permission, it wouldn't have been granted… But I certainly wouldn't have let him wash clean pans, and then take a picture".'Dishwatergate' was born. All the media needed was a team of Columbian plumbers piping the stoves."The campaign claimed Ryan was there to draw attention to the fabulous work done by volunteers, and certainly wasn't intended to create the (false) impression that Mitt Romney and Paul Ryan love poors and homelesses and sick children and other gross 47 percent moochers like that," opined online satirical magazine Wonkette.Conservatives have tried to dismiss the gaffe. Popular blogger and political commentator Michelle Malkin called the story "a bunch of malarkey" and suggested reporters hadn't checked to see if the pans were clean or not BEFORE his man got squeaky with the metalwork. It should be noted that Ryan is not the only political sidekick to get up close with the crockery. Ri Sol-ju, wife of North Korean leader Kim Jong-un, was recently shown on state TV washing dishes during a visit to an official's home. This may indicate America and DPRK may not have to sink much further to find common ground.
You can share this story on social media: