Russia and Georgia take "war" behind closed doors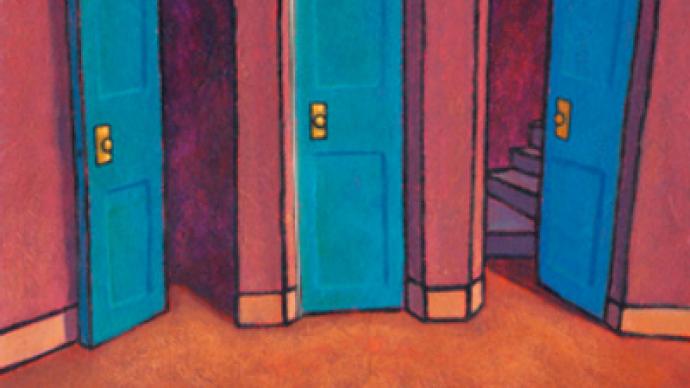 Tempers flared in Geneva where representatives of Russia, Georgia, Abkhazia and South Ossetia attempt to put aside raw memories of last year's war and strike a compromise
Perhaps the best thing that could be said about Tuesday's talks, the fifth round to be held in Geneva under the aegis of the European Union, the United Nations and the Organization for Security and Cooperation in Europe, was that they happened at all.
Indeed, Abkhazia, followed by Russia, refused to attend Monday's session due to the front page of a UN report "erroneously" entitled, "On Activity of the UN Mission in Abkhazia, Georgia."
Abkhazia reiterated that it, as well as South Ossetia, had been formally recognized by Russia as independent sovereign states, and was not a part of Georgia proper.
Abkhaz Foreign Minister Sergey Shamba said the UN was to blame for putting Abkhazia in a position that made its attendance on Monday impossible.
"We received firm promises that this report would be provided to us on May 15, but they did not give it to us… There was no report on May 16 either. And now they have told us that the report will be available on Monday," Shamba told Interfax on Saturday.
"We believe that this was done deliberately. It is obvious that there is something in the report that we don't like, and therefore we have been put in such a situation. In fact, we've been deceived," Shamba said.
A modified UN report was released on Tuesday, but the seeds of discontent had already been sown.
The head of the US delegation, Deputy Assistant Secretary of State Matthew Bryza, was especially impressed by the level of acrimony displayed by both sides.
"I would have liked to have seen a more respectful discussion," said Bryza.
"There were a series of absolutely inappropriate statements made. I won't say by whom, but entirely insulting," he added, according to AP.
Who will guarantee the peace?
The issue that caused the most consternation among the representatives involved the future security of the region and the non-use of force, as set down in the Putin-Sarkozy plan that delivered the necessary conditions for a ceasefire in the 5-day war.
Georgia hit a raw nerve on the Russian side when it proposed the deployment of international peacekeeping and police forces in the Georgia-Abkhaz and Georgian-South Ossetian zones of conflict.
Russia's delegation head, Deputy Foreign Minister Grigory Karasin, called the proposal by the Georgian side, "categorically unacceptable."
"The Georgian representatives were trying, with the help of the Americans, to force [the Geneva negotiators] to debate some kind of formats for an international peacekeeping operation and international police presence in Georgia, Abkhazia and South Ossetia," he said.
Karasin added, "there are already quite a lot of EU observers in territories bordering South Ossetia and Abkhazia – that is a special mission."
It should be noted that NATO is presently conducting military exercises in Georgia, much to Russia's chagrin, and it seems that the presence of the Soviet-era organization on territory still scorched from the August war played no small part in Russia's firm rejection of an "international peacekeeping mission."
Karasin suggested as much when he said, "The Georgians have been unable to explain clearly what kind of additional international peacekeeping and police forces they want to talk about."
Perhaps as an alternative to the suggestion of an international peacekeeping mission in the region, a high level military officer said that Russia will likely maintain fewer troops in Abkhazia and South Ossetia.
First Deputy Defense Minister Alexander Kolmakov said Tuesday that Russia's troop strength in the region "could be smaller."
Abkhazian President Sergei Bagapsh made a similar comment on Friday when he said that Russia plans to lower the number of troops in the region from 3,800 to 1,700 due to financial considerations.
However, a news report surfaced late on Wednesday saying that Russia will sign a deal to open military bases in Abkhazia.
"The agreement is ready," Bagapsh was quoted as saying by Russian news agencies after meeting Prime Minister Putin in nearby Sochi.
On Tuesday, Georgian President Mikhail Saakashvili accused Russia of wanting a "new war" with Georgia, and physically separating Tbilisi from Abkhazia and South Ossetia.
"Russia wants a new war… " the Georgian president told reporters in Tbilisi. "And Russia wants a new Berlin Wall that separates us from Sukhomi and Tskhinvali, the capital cities of Abkhazia and South Ossetia, respectively.
Despite this new level of bitterness, the European mediators praised Tuesday's meeting for taking place in a "constructive spirit."
The parties agreed to a sixth round of talks, scheduled for July 1.
You can share this story on social media: