'Kony 2012' campaign star's naked video upclose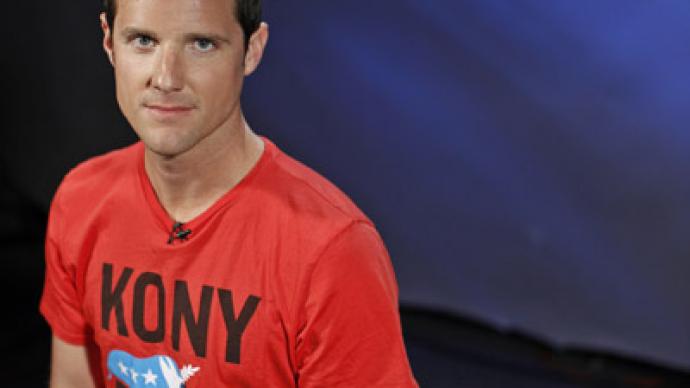 New footage has been released showing the Christian filmmaker behind "Kony 2012" confronting a senior citizen walking back and forth crying out "Oh my God, What? F*c# that Sh!t, you're the devil."
TMZ released the video over the weekend in which the flamboyant Jason Russell is seen pacing the walkway at an intersection in Southern California.
It is unsure if this footage will be as viral as the Invisible Children campaign, but in the recording the Invisible Children co-founder is visibly naked as drivers pass the street corner honking at Russell hammering his palms against the concrete in a caveman like fashion.
Although Russell has not been charged with a crime, officials have insisted that he be committed to a hospital for treatment.
Russell, 33, who is responsible for the Internet's biggest viral campaign was arrested last week by San Diego Police for allegedly fondling himself while under the influence of an unknown substance and vandalizing vehicles. According to reports, he is being held at a psychiatric ward in San Diego and is set to be released on Monday.
The reasoning behind his vulgar behavior was he was "suffering from exhaustion, dehydration and malnutrition," according to a statement issued by the Invisible Children CEO Ben Keesey.
His wife, Danica, said the harsh criticism over the film was to blame for her husband's breakdown and she denied he was under the influence of drugs or alcohol.
And as if Russell's actions weren't enough of a blow to the "Kony 2012" campaign, the Prime Minister of Uganda, Amama Mbabazi, has publicly released a response to the controversial documentary alleging that the warlord is not in his country.
"As PM of Uganda I invite you to visit the Pearl of Africa and see the peace that exists in our wonderful country," Mbabazi said in a tweet.
Mbabazi went on to say that the film gives a "false impression," and that the "Kony 2012" video does no portray the current situation in the Eastern African country.
In the past Russell has described as a "grand storyteller and a dreamer." And Russell has said "if Oprah, Steven Spielberg and Bono had a baby, I would be that baby," he told a magazine last year.
This could explain why he was wearing his birthday suit.