Rush Limbaugh blames Obama for Hurricane Isaac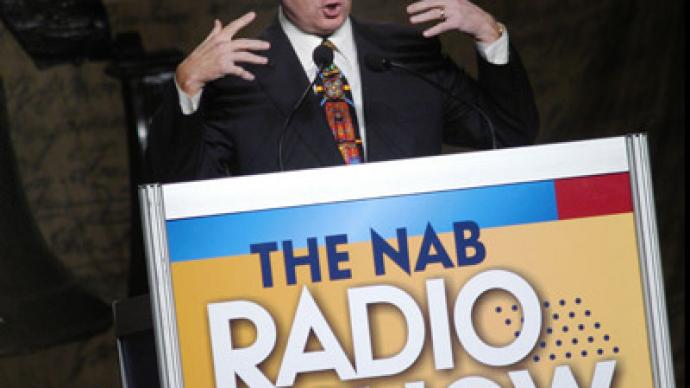 What did the one giant, detestable blob of hot air say about the other? If you managed to catch conservative radio host Rush Limbaugh's Wednesday morning rant about Hurricane Isaac, you may already know.
During Wednesday morning's broadcast of Limbaugh's nationally syndicated radio show, the legendary host called attention to the tropical storm slated to hit Florida next week right at the same time that Republicans from across the United States are expected to scurry down south for the GOP National Convention. In typical Limbaugh fashion, he says he isn't falling for the mainstream media's claim that the storm, Hurricane Isaac, is going to hit Tampa next week. No, no, no. Limbaugh told his millions of listeners that the impetus for the encroaching storm is US President Barack Obama, and the hurricane is actually just the latest effort from his administration to collapse the country's Republican Party."The National Hurricane Center, a government agency, [is] very hopeful that the hurricane gets near Tampa," Limbaugh said early Wednesday, according to a recorded excerpt uploaded to MediaMatters.org.But who is the National Hurricane Center, exactly? Don't worry — Rush has you covered. "The National Hurricane Center is Obama. The National Weather Service is part of the Commerce Department," he says. "It's Obama.""You know what it is in the media, it's all about the hurricane hitting next week and they're not talking about [Vice President Joe] Biden, They are talking about this Hurricane Isaac thing," Limbaugh continues. "We, who live in south Florida, become experts on it and we don't need the national hurricane center; we don't need all these weather dolts analyzing this for us."Limbaugh goes on to claim that he has been keeping a close eye on the weather forecast for next week and says that meteorologists have moved the expected point of impact several times. Just between 5 a.m. and 11 a.m. Wednesday morning, Limbaugh says, the hurricane's expected trajectory was shifted from striking Miami, Florida to instead the Naples/Ft. Meyers area. "Now we're still not talking about 'til next Tuesday, so it's going to be all over the ballpark between now and then. We don't know where this thing is going to hit. The models are moving it more and more out into the Gulf. I wouldn't be surprised if this thing hits in Louisiana someplace before it's all said and done," he says."Just kidding! Nobody knows."Why exactly is Limbaugh so heated up about the storm? He claims, obviously, that it is being orchestrated as part of a major Democratic conspiracy. "They are desperately hoping, they are so desperately hoping for Tampa," he says. "The media…I can see Obama sending FEMA in in advance of the hurricane hitting Tampa so that the Republican convention is nothing but a bunch of tents in Tampa. A bunch of RVs and stuff. Make it look like a disaster area before the hurricane even hits there."So there you have it. The president is hacking the planet's weather for the sake of soaking a few of his opponents. At least it's a very imaginative idea, Rush.