Ron Paul calls Gingrich a 'serial hypocrite' in campaign ad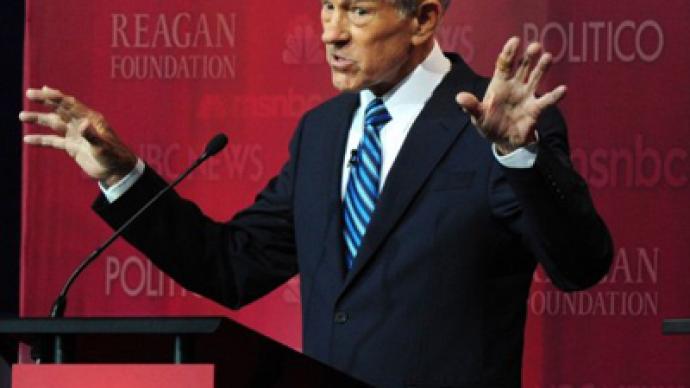 As Republican presidential hopeful Newt Gingrich rises through the poll, Texas Congressman Ron Paul is trying to take the competition down a notch with a campaign video that labels the former House speaker as a serious hypocrite.
The Ron Paul campaign has released a two-and-a-half-minute clip condemning the fellow conservative candidate for his common flip-flopping of issues, and by Thursday afternoon, the ad has already accumulated nearly 200,000 views. Through black-and-white and grainy stock clips, the Paul campaign introduces a series of statements from Gingrich throughout his tenure as a politician and lobbyist, which over the years have consistently contrasted against earlier ideologies that the former House speaker spoke of in earlier ties. Despite condemning Wall Street for bankrupting America during a recent televised GOP debate, segments in the Paul ad remind the audience that Gingrich took at least $1.6 million from Freddie Mac before the housing collapse. In the campaign commercial, the Paul campaign uses a quote from the National Review to perhaps best summarize Gingrich's gain; the paper had equated the maneuver by writing that "Gingrich profited from one of the greatest scandals of our time."Paul's clip even contains jabs at Gingrich by way of conservative radio host Rush Limbaugh and Rep. Paul Ryan, two of the top names in right-wing politics — one, courtesy of the commentator, labels the former speaker as a supporter of the Obama administration."There is no explanation of it," says Limbaugh.Paul's ad pulls quotes from Gingrich himself, further exploiting him as a flip-flopper. While Gingrich has discussed questions of policy, values and seriousness, the Paul office calls him out for not staying straight on any one of those. The result, says the campaign, is a candidate guilty of "serial hypocrisy.""Our campaign is making a bold move to debunk the myth that the Newt we are seeing on the 2012 campaign trail is the conservative he has been touted to be all along," Paul's campaign chairman Jesse Benton said in an official statement on Wednesday."It's pretty tough," Larry Sabato of the University of Virginia Center for Politics adds to the Christian Science Monitor. "If he ever does air it [on TV], it's bound to hurt Gingrich.""It revives a lot of things that voters have forgotten, maybe older voters too."Gingrich has labeled himself as of late as a solid alternative to frontrunner Mitt Romney, but to CNN on Thursday, Paul said the former speaker is a flip-flopper, "so he can hardly be the alternative to Mitt Romney.""What will you tell us next?" the video's narrator asks Gingrich at the end of the clip.
You can share this story on social media: