Is there a war on RT?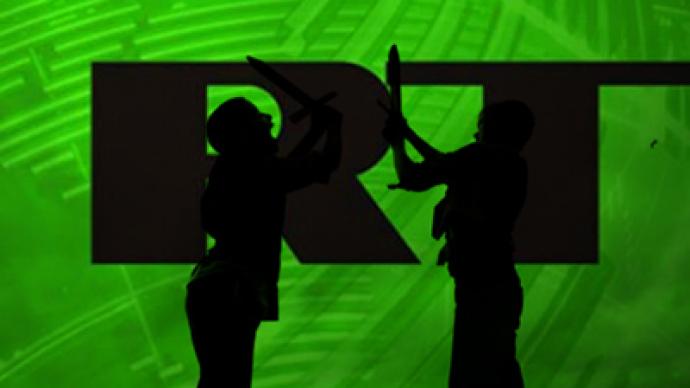 Everyone has a right to their opinion and RT would never decry that right, but we here at RT feel that it is time to address some of the criticism that has been directed at us to correct what we feel is the misinformation that has been put out there.
For example Politico has called us a "Russian propaganda arm."But we want today first to address criticism that centers on our guests.For example, Southern Poverty Law Center said "[RT] frequently quotes US extremists as authorities on world events or interviews them at length…"New York Times pointed out, "ratings have risen as Russia Today has reported on controversial topics on the fringe of mainstream news," and as an example they cite "[a] report featured an interview with Malik Zulu Shabazz, the national chairman of the New Black Panther Party.""If the names of American guests on RT are unfamiliar to many Americans, there's a reason," said Jonathan Sanders, a former CBS Moscow correspondent, quoted by a Columbia University Journalism School project on the "Global Media Wars," who were interviewed on NPR about their findings. "Their guests are people on the fringes of respectability and cranks." Yes, RT is so fringe that you are never going to see our guest's faces anywhere else – certainly not on those mainstream "respectable" news stations. They would never be interested in any of our unrespectable, extreme guests.We wanted our audience to take a look at a quick recap of our "fringe," "unrespectable," "extremist" guests we have on the show. RT has spoken with many people – including: Congressman Ron Paul, Julian Assange, Cenk Uygur, investor Jim Rogers, international relations expert Lawrence Korb, journalist Jeremy Scahill, investor Peter Schiff, Senator Rand Paul, journalist Matt Taibbi, former Secretary of State Henry Kissinger, former national security adviser to US President Jimmy Carter Dr. Zbigniew Brzezinski, former US Ambassador to the UN John Bolton, journalist Chris Stirewalt, and many more. Notice anything? Those fringe guests appear everywhere!! They frequent CNN, Fox News, and MSNBC. RT is not a mainstream channel. We believe in bringing on a variety of points-of-view which you are not going to see on the mainstream stations… that is kind of the point. But come on, Nobel Prize winners, US Presidential hopefuls, congressional members, journalists and whistleblowers, we think, are pretty qualified to speak as guests on a news program.In fact, RT often pursued many of these guests before mainstream US media shows took any interest. For instance, RT began doing interviews with Ron Paul early in 2008, long before every mainstream channel was inviting him on to talk about his Presidential.Also, the New York Times blogs picked up our first interview with Julian Assange of WikiLeaks because at the time not much TV press had talked to him back in April of 2010.Cenk Uygur of the Young Turks was coming on RT long before MSNBC snatched him up to fill a seat in their very own anchor chair.Just a few things to consider when discussing RT guests.
You can share this story on social media: