Ron Paul's running mate: Jesse Ventura?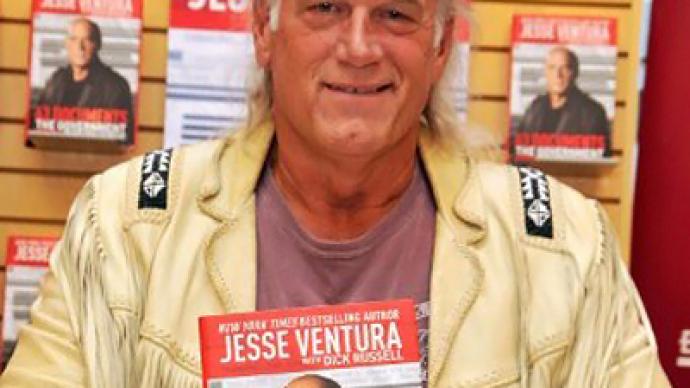 As presidential hopeful Ron Paul continues to gain momentum in his bid for the GOP nomination, former Minnesota Governor Jesse Ventura has suggested that the two of them could cause quite a stir if Paul would bring him on board as his running mate.
"It would create unbelievable excitement if Ron Paul and I ran as the libertarian ticket," Ventura told radio host Alex Jones of Infowars during a Tuesday night broadcast.
The former governor and Navy veteran gave up a career with professional wrestling to enter politics in the 1990s. Following a term as mayor of Brooklyn Park, Minnesota, Ventura waged a grassroots campaign as a candidate with the Independence Party to successfully win the race for governor of the state in 1998. Earlier this year he published a book titled 63 Documents the Government Doesn't Want You to Read, in which he calls out America for dozens of conspiracy theories.
Though he has not held an elected political position in years, Ventura suggests that the team of Paul and Ventura running on the Libertarian ticket could be a big move for America. And while Ventura says that Paul is picking up speed in his race, the Texas congressman is going to have to dig deep to garner the support of the voting public that neglects to hit the polls.
"Ron Paul can win. It's out there. All you got to do is activate and get the silent voters out to vote," says Ventura. "You have to give them a reason to see their vote."
When quizzed by Jones on if he would seriously ponder running with Paul given the opportunity, Ventura said he would give it "very serious consideration" but would have to take it up with his wife first.
Ventura was explicit in that it wouldn't be a GOP ticket that would bring the two together, however. "Ron Paul needs to quit the Republican Party, get the nomination for the Libertarian Party," says Ventura.
Following last week's televised Republican debate on Fox News, Paul won an online poll that pegged him as the most likely candidate for the GOP bid. Elsewhere he has polled strong in surveys of the candidates, often placing within the top-three.
Following the debate, another notorious indepdent, former presidential candidate Ralph Nader, offered his support to Paul:
"He wants to get out of these wars overseas, he wants to bring the soldiers back, he wants to cut the bloated military budget, he wants to change some of the anti-civil liberty provisions in the Patriot Act, he hates corporate welfare an all these bailouts of Wall Street crooks," Nader said to CNN. "He ought to get more attention, instead of ten times more attention being given to Michele Bachmann."